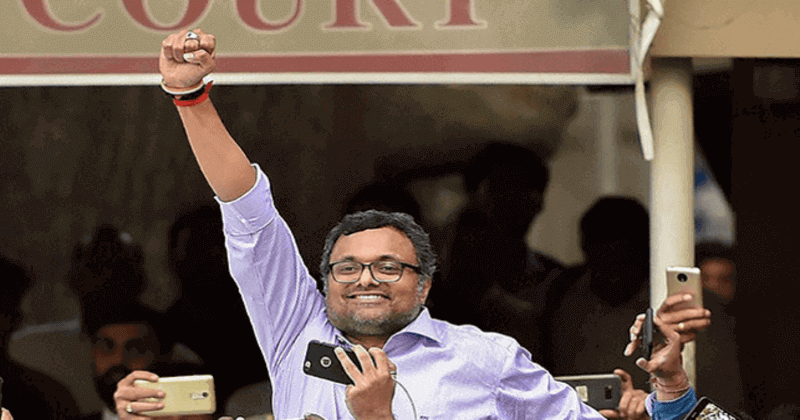 Are the CBI and ED officials a step closer to charging Karti Chidambaram to his crimes?
What is likely to give momentum to the Enforcement Directorate's investigation against Karti Chidambaram and his father P Chidambaram in the Aircel-Maxis case, the adjudicating authority of the Prevention of Money Laundering Act (PMLA) on Tuesday confirmed the attachment of assets worth Rs 1.16 cr of Karti and his Advantage Strategic Consulting Pvt Ltd.
The ED had provisionally attached fixed deposits and bank balances amounting to Rs 1.16 crore on September 23 last year held by Karti Chidambaram and Advantage Strategic Consulting Pvt Ltd (ASCPL) in the Aircel-Maxis case.
The confirmation of the attachment order by the PMLA authorities comes at a time when the Supreme Court has directed the agency to complete its investigation in the case within six months, along with all other probes in the 2G spectrum scam.
READ ALSO: "Go to hell" says Karti Chidambaram; accused non-cooperative
The agency is also investigating the role of the former finance minister P Chidambaram in the Aircel-Maxis case as he was the one who had allegedly bypassed the Cabinet Committee on Economic Affairs (CCEA) in granting foreign direct investment (FDI) approval to the Aircel-Maxis to the tune of Rs 3,500 crore. As the then FM, Chidambaram was authorized to approve FDI up to Rs 600 crore, any amount above that had to be cleared by the CCEA.
"This attachment was done as the amount was involved in money laundering concerning with the FIPB (Foreign Investment Promotion Board) approval given to Aircel Limited on March 20, 2006, by the then FM for which he was not competent to approve," the ED has said in a statement. The FIPB came directly under the FM. 
The ED has tracked a payment of Rs 26 lakh by Aircel Televentures Ltd (ATVL) (the seller of equity shares in this deal) to Advantage Strategic Consulting Pvt Ltd (ASCPL) within a few days of the FIPB approval, according to ED.
READ ALSO: Paradise Paper reveals significance of Dayanidhi in Aircel-Maxis case
"Another sum of Rs 90 lakh was received by Chess Management Services Pvt Ltd, a company promoted by Karti P Chidambaram and A Palaniappan (nephew of P Chidambaram), from Maxis group company allegedly for legal compliance software. These payments were not genuine and bonafide in nature," a senior ED official said.
The agency had earlier claimed before the Supreme Court through an affidavit filed in the Aircel-Maxis case that "Karti Chidambaram controlled ASCPL through S Bhaskararaman, who is his chartered accountant and looks after his financial matters".
The main shareholders of ASCPL are V Padma (wife of S Bhaskararaman), Ravi Visvanathan (brother of Padma) and CBN Reddy, the ED official said.