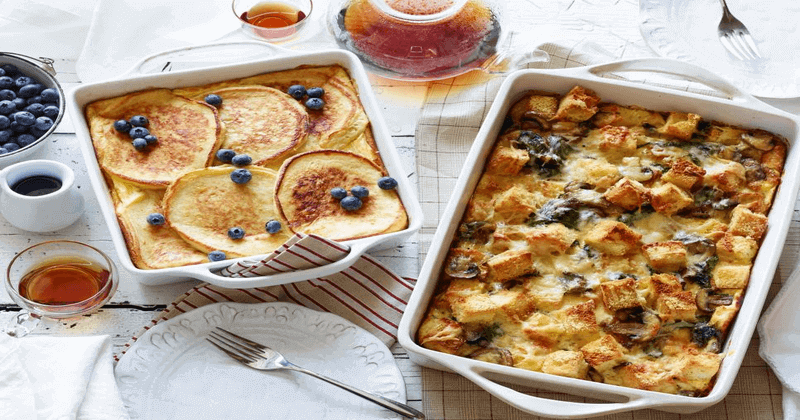 Now don't confuse the word casserole dish with the cutlery. They are entirely 2 different things.
So here is a warm meaty casserole for breakfast.
HALF-AN-HOUR BREAKFAST RECIPES
BLT EGG BAKE RECIPE
A BLT is a type of bacon sandwich. The standard BLT is made up of four ingredients: bacon, lettuce, tomato, and bread. So this recipe is a combination of those flavors into a warm, cozy casserole.
MAKES: 4 servings
TOTAL TIME: Prep/Total Time: 30 min.
INGREDIENTS
1/4 cup mayonnaise
5 slices bread, toasted
4 slices process American cheese
12 bacon strips, cooked and crumbled
2 tablespoons butter
2 tablespoons all-purpose flour
1/4 teaspoon salt
1/8 teaspoon pepper
1 cup 2% milk
4 large eggs
1 medium tomato, halved and sliced
1/2 cup shredded cheddar cheese
2 green onions, thinly sliced
Shredded lettuce
READ ALSO: Gooey Nutella-filled breakfast to sweeten your mornings
DIRECTIONS
Preheat oven to 325°. Spread mayonnaise on one side of each slice of toast and cut into small pieces. Arrange toast, mayonnaise side up, in a greased 8-in. square baking dish. Top with cheese slices and bacon.
In a small saucepan, melt butter. Stir in flour, salt and pepper until smooth. Gradually add milk. Bring to a boil; cook and stir 2 minutes or until thickened. Pour over bacon.
In a large skillet, fry eggs over medium heat until they reach desired doneness; place over bacon. Top with tomato slices; sprinkle with cheddar cheese and onions. Bake, uncovered, 10 minutes. Cut in squares; serve with lettuce.
NUTRITIONAL FACTS
1 serving: 594 calories, 42g fat (16g saturated fat), 251mg cholesterol, 1262mg sodium, 25g carbohydrate (7g sugars, 1g fiber), 27g protein.
NOTE:
Those ingredients that are not available in your region, use your creativity & mix n' match or substitute it.