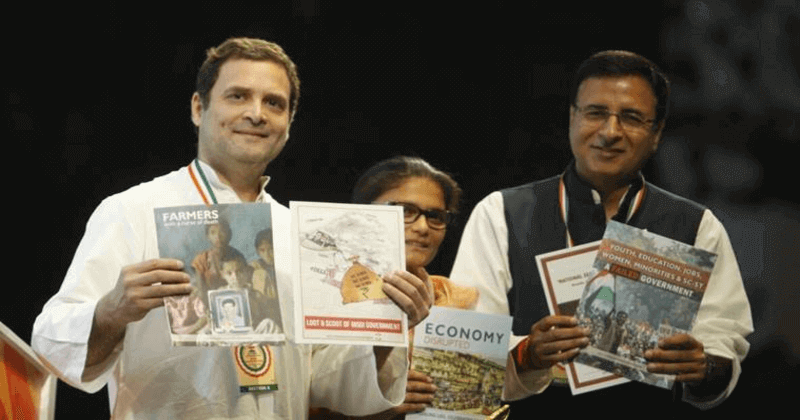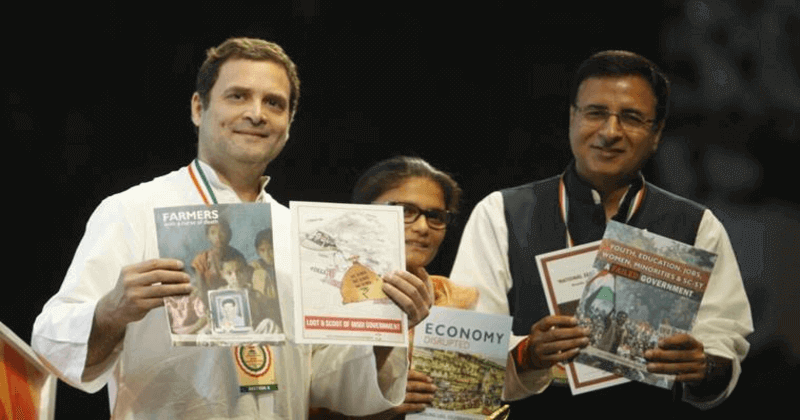 Will Congress be able to unite the divided Indian nation? While Rahul Gandhi has assured that his party can at the Congress Conclave, we are yet to see it.
 Although the focus of the Conclave is the 2019 Lok Sabha elections, the party is likely to discuss and adopt 2 resolutions- a political one and the other on the jobs and poverty alleviation.
Here are the LIVE UPDATES:
4:46 PM
Swaminathan to Jumlanathan
Modi Ji's government scrapped farmers' Swaminathan Committee and replaced it with 'Jumlanathan Committee': Randeep Surjewala
4:44 PM
'Arrogant' Modi govt left no stone unturned to destroy Congress: Sonia Gandhi
PM Modi's promises of combating corruption, ensuring inclusive development were all 'dramebazi' and a trick to grab power, the Congress leader alleged.
4:42 PM
Bangladesh PM writes to Sonia Gandhi
Bangladesh PM Sheikh Hasina recalls the extraordinary support extended to Bangladesh by former PM Indira Gandhi as AICC meets for its plenary session. 
In a message to UPA Chairperson Smt. Sonia Gandhi, Bangladesh PM Sheikh Hasina recalls the extraordinary support extended to Bangladesh by former PM Smt. Indira Gandhi and has sent her best wishes for the 84th Plenary Session of the Congress. #CongressPlenary #ChangeIsNow pic.twitter.com/JRE6NAvmHl

— Congress (@INCIndia) March 17, 2018
4:39 PM
Randeep Surjewala questions Modi govt on loan frauds
The biggest betrayal anyone has ever done to the farmers of the country is the present Modi govt. I would like to ask Modi government, doesn't the market distort when Nirav Modi, Mehul Choksi, Vijay Mallya and Jatin Mehta flee out of the country and does it only distort when farmers ask for Minimum Support Price?, questions Congress leader Randeep Surjewala at AICC plenary session. 
4:11 PM
Two decades in Congress
Sonia Gandhi received a standing ovation from the Congress workers at the plenary session after she finished her speech. 
Standing ovation for Sonia Gandhi expressing gratitude for her leadership in the last almost two decades at @INCIndia meet #CongressPlenary @IndianExpress pic.twitter.com/UpYGgyFUp3

— Liz Mathew (@MathewLiz) March 17, 2018
3:56 PM
Congress is fighting the tyrannical Modi Govt. People have begun to realize that the promises made by the BJP in 2014 were hollow, Sonia Gandhi said at the Congress Plenary session in New Delhi.
3:44 PM
Sonia Gandhi at AICC Plenary
Pulling no punches, Sonia Gandhi targetting the Modi government said, "The promises of 'Sabka Saath Sabka Vikas' and 'Na khaaoonga na khaane doona' by the current govt is nothing but 'drama' & their tactic to get votes."
3:26 PM
Sonia Gandhi addresses challenges facing the country
"Wherever there is a non-Congress govt, our friends are taking a stand against anarchy & violence there & continuing with their work, braving all of it. It is Congress Party which takes stand against injustice and raises it voice against it. It is the beginning of a new chapter, the challenges we are facing are not usual ones. We need to make an India free of corruption and vendetta, under President Rahul Gandhi, let us pledge that we will make all efforts to to do this."
3:24 PM
Sonia expresses confidence in Rahul Gandhi
"We need to take a pledge that under the leadership of President Rahul Gandhi we will take the country and the party to newer heights," says Sonia Gandhi. Urges Congress workers to be ready to give any sacrifice for the country.
3:21 PM
Soni Gandhi on Modi govt
"Today I am saddened to see that Modi government is weakening and ignoring the schemes and programs implemented during UPA. Congress has never cowered down and it will never cower down."
3:19 PM
Sonia Gandhi slams Modi Govt
Slamming Modi government, Sonia Gandhi said that the BJP government in its arrogance has tried everything to destroy the Congres. Calling Modi a dictator, Sonia said that "We are exposing their false promises in front of the people." 
3:17 PM
Sonia Gandhi talks about UPA rule
During the UPA rule under Manmohan Singh, the country registered its strongest economy and GDP, says Sonia Gandhi. 
3:15 PM
Sonia remembers Indira Gandhi
40 years back Indira's Ji's stunning victory in Chikmagalur turned around Indian politics, once again our party must give a similar performance says Sonia at the AICC Plenary session in Delhi. 
3:12 PM
Sonia congratulates Rahul Gandhi
Sonia Gandhi congratulated Rahul Gandhi on taking the reins of the party as its President. Sonia is speaking at the Plenary session of the AICC in Delhi. 
3:11 PM
Sonia Gandhi speaking at Congress Plenary session
Today only one thing matters, how to strengthen the great party with which we have relations which go back in time. The party's victory will be the nation's victory, it will be the victory for each one of us. Congress is not a political term, it is a movement, says Sonia Gandhi. 
3:00 PM
Rahul Gandhi's Twitter profile gets a makeover
For those of you who missed it, my Twitter handle has changed from 9 am this morning to @RahulGandhi

The @OfficeOfRG account has been discontinued.

I look forward to your feedback and comments and to continuing my dialogue with you via Twitter and other platforms.

— Rahul Gandhi (@RahulGandhi) March 17, 2018
READ ALSO: Conclave begins with Rahul Gandhi's first speech: LIVE UPDATES
2:02 PM
Congress plenary session in New Delhi
Facing the challenge of defections in the party, with BJP poaching many of its leaders, the Congress party sought debarring defectors from contesting elections for six years to check the "brazen misuse of money power to create political instability".
It also said that the BJP's move of simultaneous elections is 'misplaced' and is 'incompatible with the Constitution as also impractical'. "It will have serious implications, which must be thoroughly enquired into, and a national consensus built," the resolution stated.
1:56 PM
Congress draft's resolution at the plenary meet
The political resolution also talked about deteriorating internal and external security environment, youth, women empowerment and social justice. The resolution also called upon the media to restore the balance in the national narrative to safeguard democracy.
The party also said the judicial system needed urgent reforms for an effective and timely dispensation of justice and said the huge pendency of cases and providing affordable justice remains a big challenge that needs to be addressed.
1:47 PM
Congress Plenary Session in New Delhi
Nobody can stop Rahul Gandhi from becoming the Prime Minister of the country in 2019: Karnataka CM Siddaramaiah (ANI)
1:43 PM
Congress' draft resolution at the plenary session
The party said it was prepared for making sacrifices required to defend the ethos of the Constitution and "we will purge the polity of the aberrations witnessed during the BJP regime, which has failed to honor its commitments to the people of India".
"The Congress condemns the BJP government for brazen abuse of power and misuse of central agencies for targeted political vendetta to harass, humiliate and persecute its political opponents. The Congress party warns the BJP and its government that its undemocratic methods and acts to curtail liberty, freedom of expression and violation of fundamental rights of its citizens as enshrined in the Constitution will be strongly resisted," the resolution said.