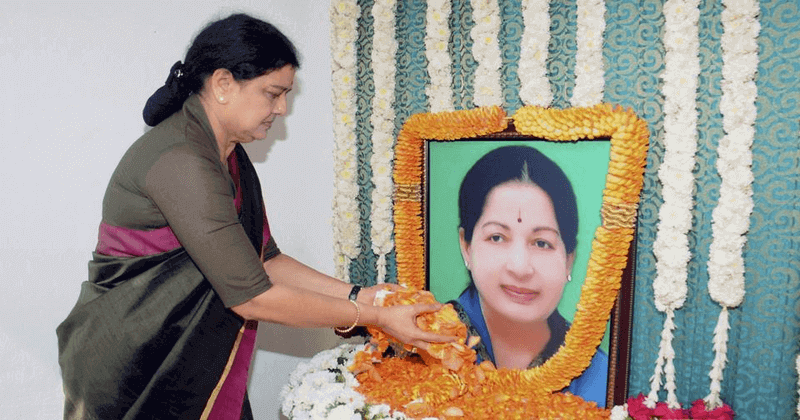 Tamil Nadu had mourned for its former Chief Minister Jayalalithaa when she had passed a away.
And there are controversies that still surround the leader's death.
Jailed AIADMK leader Sasikala Natarajan has said that former Tamil Nadu Chief Minister Jayalalithaa didn't want to go to the hospital after she collapsed in the washroom of her Chennai home on September 22, 2016. Sasikala, who was a long-time companion of Jaya, made her claims while speaking to a retired judge investigating the death of latter.
She has also claimed that Jayalalithaa was videographed inside the hospital. In her affidavit, Sasikala said some AIADMK leaders, including O Panneerselvam and M Thambidurai, were allowed to meet Jayalalithaa. However, both leaders had earlier denied meeting Jayalalithaa during her three-month stay in hospital.
READ ALSO: Tamil Nadu govt will acquire Jayalalithaa's house
Also, two security officers, who were deployed in the security of Jayalalithaa, were allowed to meet her. The two officers even spoke to Jaya at times.
In another big statement, Sasikala claimed that Jayalalithaa regained consciousness on the way to the hospital and asked where she was being taken.
Her affidavit adds that a severely stressed Jayalalithaa fell unconscious around 9.30 pm. She was inside the washroom on the first floor of Poes Garden when the incident happened. "She called out to me for help. I suggested going to hospital, but she refused. She passed out and I called the doctor for an ambulance," Sasikala has reportedly claimed in the affidavit.
In her 55-page affidavit, Sasikala has submitted a list of people who met or saw Amma inside Chennai's Apolo hospital. In her list, Sasikala has also named governor CH Vidyasagar Rao among the people who had seen Jayalaithaa. Rao had claimed that he saw the AIADMK chief through a glass screen on October 22 and she waved at him.
READ ALSO: Sasikala seeks parole for attending husband's last rites
A number of theories have surfaced regarding Jayalalithaa death. Recently, Sasikala's brother had claimed that Amma died on December 4, 2016 and not on December 5 as officially announced by Apollo Hospital. While speaking at M.G. Ramachandran (MGR) birth centenary celebrations in Tiruvarur district, Divakaran said Jayalalithaa breathed her last at 5.15 p.m. on Dec 4, 2016 and not the next day late night.
Jayalalithaa was admitted to Apollo Hospital on September 22, 2016 for dehydration. Later, her condition got complicated and she died under treatment after 75 days.