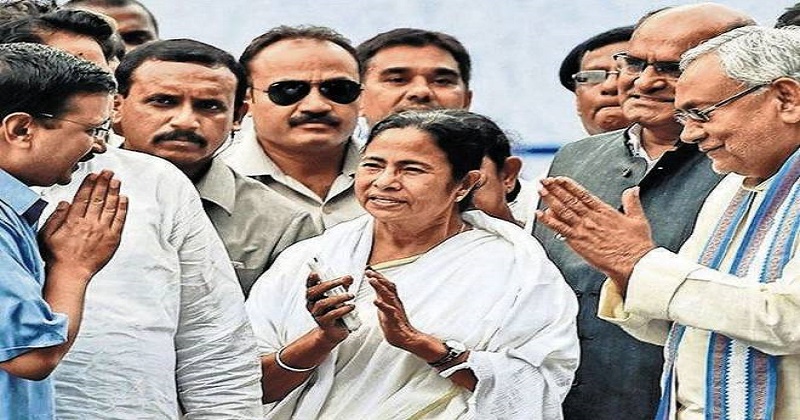 Trinamool Congress Chief Mamata Banerjee on a mission for forming a "federal front" excluding the Congress to defeat the BJP in the 2019 Lok Sabha elections. For that today she met NCP chief Sharad Pawar and leaders of other regional parties like TDP, SP, RJD, BJD, NC and NDA's Shiv Sena.
Banerjee, who is in Delhi for three days, had an hour-long meeting with the NCP chief and other party leaders at his office in Parliament. Pawar had earlier denied that a meeting over dinner with opposition parties was scheduled, "There is no meeting, there is no dinner," Pawar had said in response to a question whether there will be a dinner meeting with the West Bengal chief minister.
Also Read: Mamata Banerjee lashes out against BJP and RSS over Ram Navami rally
According to a senior NCP leader, Banerjee favored forming a "federal front" to defeat the BJP without involving the Congress. Later NCP leader Praful Patel, while briefing media on the meeting, said that both the leaders agreed that there should be "maximum unity" among opposition parties to take on the BJP.
"The situation will evolve in the coming months for assembly and Lok Sabha polls. There are of course a lot of different views on what kind of approach should be taken." Patel told reporters.
Banerjee, who also met other leaders from opposition parties like TDP, which recently walked out of the BJP-led NDA over the issue of special status to Andhra Pradesh, TRS, SP, RJD, BJD, NC, and JMM.
She also met Shiv Sena leader Sanjay Raut along with other Sena members of Parliament triggering speculation in political circles. The Sena, though a part of the ruling NDA, has been critical of Maharashtra and central governments.