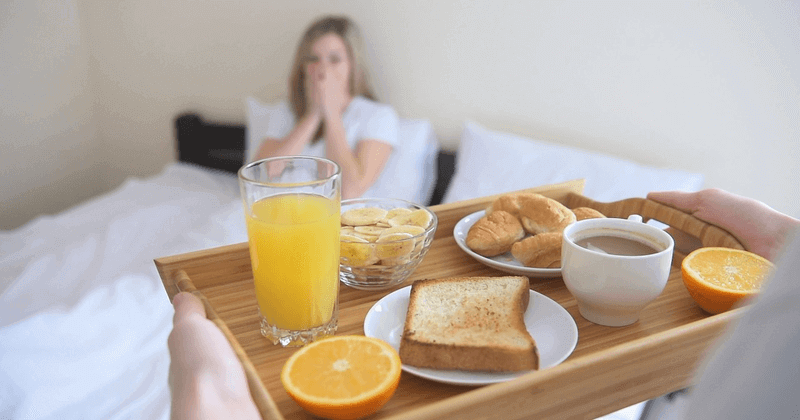 Now we know all breakfast dishes are not breakfast-in-bed friendly. But this one is.
HALF-AN-HOUR BREAKFAST RECIPES
POACHED EGGS & POLENTA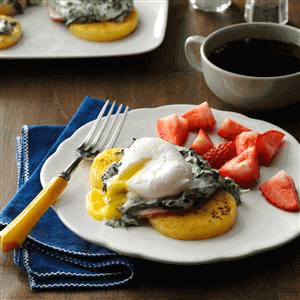 We have a bed and breakfast in Gettysburg where I serve creative dishes like these poached eggs with polenta, our twist on eggs Benedict.
MAKES: 6 servings
TOTAL TIME: Prep/Total Time: 25 min.
INGREDIENTS
1 tube (18 ounces) polenta, cut into 12 slices (1/2-inch thick)
6 pieces Jones Canadian Bacon
2 teaspoons white vinegar
6 large eggs
2 tablespoons butter
2 tablespoons all-purpose flour
1/4 teaspoon salt
1 cup 2% milk
1/4 cup shredded Swiss cheese
1/4 cup grated Parmesan cheese
1 tablespoon sherry, optional
1 package (10 ounces) frozen chopped spinach, thawed and squeezed dry
READ ALSO: Have your dinner for breakfast; a simple morning recipe
DIRECTIONS
Heat a lightly greased griddle over medium heat. Place polenta slices and bacon on griddle; cook 2-3 minutes on each side or until lightly browned. Remove and keep warm.
Place 2-3 in. of water in a large saucepan or skillet with high sides; add vinegar. Bring to a boil; adjust heat to maintain a gentle simmer. Break cold eggs, one at a time, into a small bowl; holding the bowl close to the surface of the water, slip each egg into water. Cook, uncovered, 3-5 minutes or until whites are completely set and yolks begin to thicken but are not hard.
Meanwhile, in a small saucepan, melt butter over medium heat. Stir in flour and salt until smooth; gradually whisk in milk, cheeses and, if desired, sherry. Bring to a boil, stirring constantly; cook and stir 1-2 minutes or until thickened. Stir in spinach.
For each serving, top two polenta slices with a slice of bacon and 1/4 cup sauce. Using a slotted spoon, lift egg out of water; place on sauce. Serve immediately. 
NUTRITIONAL FACTS
1 serving (calculated without sherry): 269 calories, 13g fat (6g saturated fat), 213mg cholesterol, 788mg sodium, 22g carbohydrate (4g sugars, 2g fiber), 16g protein.
NOTE:
Those ingredients that are not available in your region, use your creativity & mix n' match or substitute it.