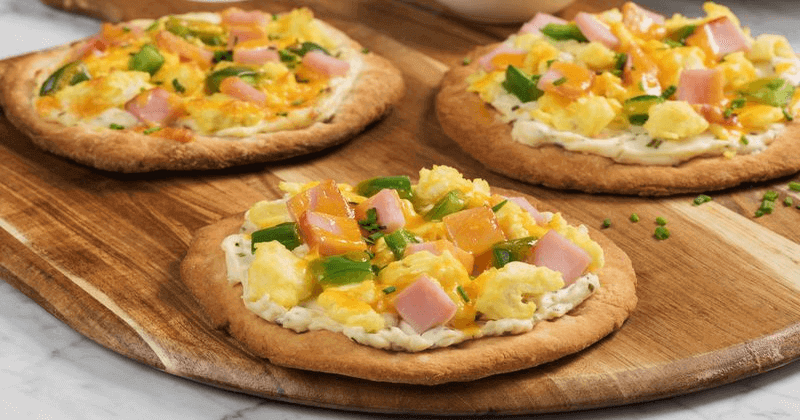 Pizza for breakfast? That too healthy? You must be thinking I am out of my mind. But who doesn't love pizza? So give this recipe a try.
HALF-AN-HOUR BREAKFAST RECIPES
BACON & EGGS PIZZA
It'
s an awesome alternative to basic egg casseroles.
MAKES: 6 servings
TOTAL TIME: Prep/Total Time: 30 min.
INGREDIENTS
8 thick-sliced bacon strips, chopped
1/4 cup finely chopped onion
4 large eggs
1/4 cup grated Parmesan cheese
1 teaspoon Italian seasoning
1/4 teaspoon salt
1/4 teaspoon pepper
1 tablespoon butter
1 prebaked 12-inch pizza crust
1/2 cup Alfredo sauce
1/2 cup chopped roasted sweet red peppers
2/3 cup shredded cheddar cheese
1/2 cup crumbled queso fresco or shredded part-skim mozzarella cheese
READ ALSO: Breakfast in bed with this simple & delicious dish
DIRECTIONS
Preheat oven to 425°. In a large skillet, cook bacon over medium heat until crisp, stirring occasionally. Remove with a slotted spoon; drain on paper towels. Discard drippings, reserving 1 tablespoon in pan.
Add onion to drippings; cook and stir over medium-high heat until tender. Remove from pan. Wipe skillet clean if necessary.
In a small bowl, whisk eggs, Parmesan cheese and seasonings until blended. In same pan, heat butter over medium-high heat. Pour in egg mixture; cook and stir until eggs are almost set.
Place pizza crust on an ungreased baking sheet. Spread with Alfredo sauce. Top with red peppers, bacon, onion and scrambled eggs. Sprinkle with cheeses. Bake 6-8 minutes or until cheese is melted and eggs are set.
NUTRITIONAL FACTS
1 slice: 465 calories, 26g fat (12g saturated fat), 190mg cholesterol, 1152mg sodium, 34g carbohydrate (3g sugars, 2g fiber), 24g protein.
NOTE:
Those ingredients that are not available in your region, use your creativity & mix n' match or substitute it.