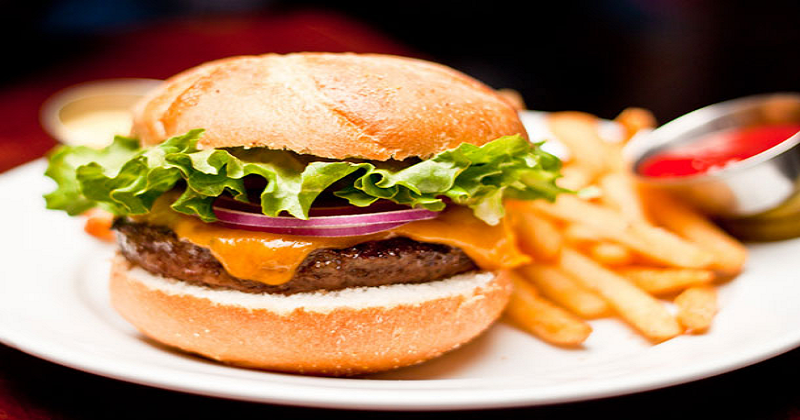 All-time Popular and favourite snack are Burger. There's nothing better than a homemade burger.
Here is how you can make a burger at home with very few time:
Preparation Time: 10 Minutes
Cooking Time: 2 Minutes
Ingredients for Vegetable Cutlets :
Potato (Boiled, peeled and mashed) 2
French Beans 4-5 stick
Sweet corn 1/2 cup
Green Peas 1/2 cup
Garam masala powder 1/4 teaspoon
Lemon juice 1 teaspoon
Ginger 1/2 inch piece
Green Chilli 4
Salt To taste
Bread Slices 3
Bread Crumbs 1 cup
Ingredients for the Burger Filling:
Sliced Tomato 4
Sliced Cucumber 4
Sliced Onion 4
Sliced Cheese 4
Burger sauce 2 teaspoon
Mayonnaise 4 teaspoon
Spinach or lettuce leaves 4
Method:
1. Take French beans, sweet corn and green peas. Now Boil it for 2 minutes into the pressure cooker and grind it coarsely.
2. Grind ginger and green chillies together. Now dip the bread slice in water for half a minute. Squeeze out the water and crumble the bread as shown below in the picture.
3. Take a bowl, add potatoes. Then add grind vegetables and bread crumbles. Add lemon juice, salt, garam masala powder and grind ginger-chilli paste.
4. Make small flattened round balls from the mixture and coat with breadcrumbs. Press them firmly so that they stick to the surface.
5. Shallow fry in hot oil till the cutlets are golden brown.
6. Now take Buns and cut horizontally into two pieces. Now spread Burger sauce on the lower half.
7. Place spinach or lettuce leaves, Cheese Slice, tomato, onion and cucumber slice on a bun. Now place a cutlet.
8. Spread mayonnaise on cutlet, again put 1 tomato and onion slice and then cover with the remaining half of the bun. Now Put in Microwave Oven for 1 minutes to warm it. Repeat the same procedure with the remaining ingredients to make more three burgers.
Also Read: Recipe: How To Make French Fries At Home