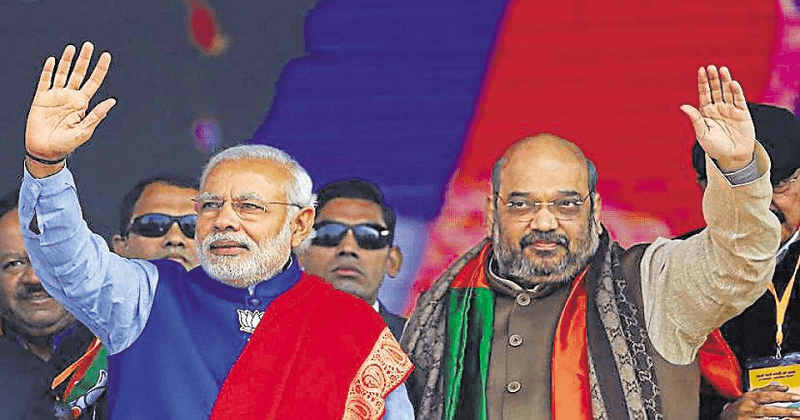 The BJP on the decision to aim the NCP and its president Sharad Pawar ahead of the 2019 elections. A highly-placed source in the BJP expressed that,"During the two-day meet held in Mumbai, led by party president Amit Shah, two political decisions were given the consent. The first was to initiate preliminary talks with alliance partner Shiv Sena from mid-April. Second, the BJP should scale up its attack against the Pawar-led NCP."
A senior party functionary said, "There is mounting pressure within the party not to soft pedal against NCP. BJP's big battle in 2019 will be in western Maharashtra, where NCP is still a force to reckon with."
Additionally, the BJP leaders in Maharashtra hope that "all the agitations that took place, including farmers stir, the Maratha rallies and Samvidhan Diwas, were an outcome of the Pawar-led initiative along with other parties."
On Friday, both Shah and Chief Minister Devendra Fadnavis targeted Pawar. The political managers in the BJP said, "It was to convey a strong message to grass root workers who had come from various parts of Maharashtra to consider the NCP as its staunch rival along with the Congress."
The argument against Pawar has also become imperative to express the message that the BJP government at the Centre-state would not appreciate in any cover up in the irrigation scam.
On Friday, answering to questions, Shah said, "Maharashtra government has already filed 14 FIRs in the irrigation scam. And investigation is underway. The government will take action against the culprits."
Read More: https://www.eastcoastdaily.in/2018/04/08/samajwadi-party-boss-akhilesh-yadav-ready-for-the-sake-of-the-alliance.html
In the last three-and-a-half years in Maharashtra, Prime Minister Narendra Modi and Sharad Pawar had shared the dais at least three times in public and private functions and praised each other to show their relationship. The BJP's latest aggressive posturing against Pawar was seen in the NCP as an output of helplessness.
Senior NCP leader Ajit Pawar said, "Whenever they are on the backfoot, they hold such threats against our leaders and party." Opposition leader in the Legislative Council Dhananjay Munde said, "Even we have cases against 16 ministers of the BJP. We will also expose their wrongdoings."
NCP chief spokesperson Nawab Mallik said, "Pawar has become the target as BJP realises NCP is getting a positive response to their agitations in the state. Also, Pawar has become a rallying point for other parties at the Centre against the BJP."
In the current Assembly, based on 2014 results, "the BJP won 122 seats, Shiv Sena 63, Congress 42, NCP 41 and others 20."