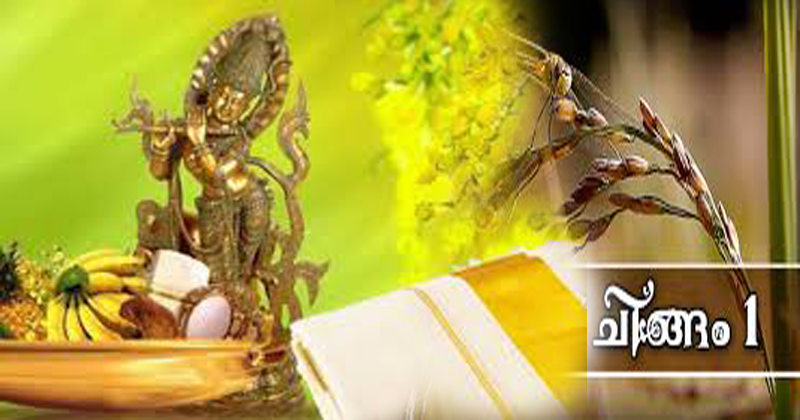 There are two new year days as per Malayalam Calendar, First day of the year (Chingam 1) and Astronomical New year (Medam 1 – Vishu).
Technically, the new year should be Chingam 1, the first day of the year. Traditionally Medam 1 – which was the day of Vernal Equinox was celebrated as an astronomical new year (No longer true, as the vernal equinox is on March 21, which is before Vishu now). Officially (Kerala Government mandated), Chingam 1 is the new year day.
Vishu is the New Year of Malayalees – It is the astronomical or zodiac New Year in Kerala and is observed on the first day of the Malayalam month of 'medam.' In 2018, the date of Vishu is April 15. Historically the festival is closely associated with the agrarian economy of Kerala – a state is the southern part of India. The highlight of the festival is Vishukani, Vishukaineetam and Vishubhalam.
The Vishu day celebrations begin with the 'Vishukani.' 'Vishu Kani' is the first auspicious thing that people see on the day and this takes place during the Brahma Muhurta.
From an astrological point of view, Vishu is of immense significance. The day and night are of equal duration on the Vishu day (12 hours). 'Vishubhalam' or the predictions for
the next year is read on the day. The preparation for next agricultural season begins on the Vishu day. Earlier, farmers used to plough the land on this day and it was referred as 'Vishupootu.'
It must be noted that Vishu is not the first day in the regional solar calendar followed in Kerala. The Malayalam Calendar begins in Chingam (August).
Chingam 1, Chingam month 1, the first day of Chingam month is the Malayalam New Year Day. In Malayalam calendar, New Year almanac (Kolla varsham) begins on Chingam 1. Chingam Month 1 marks the transition of Sun to Chingam rasi or Simha Rasi (Leo zodiac) from Karkidakam rasi or Karka Rasi (Cancer zodiac). Chingam 1 is also known as Simha Sankranti.
Onam or Thiruvonam is the biggest festival celebrated in Chingam month and it is also the biggest of all Kerala festivals. Malayalam calendar is the only calendar which celebrated its New Year in rainy season i.e. in August.
Chingam 1 is celebrated with much gusto in all temples of Kerala and all over a world where Malayalis live in large numbers. Many cultural organizations conduct special programs displaying the legends of Malayalam New Year.
Also Read: VISHU – "The New Year Of Kerala" : Traditions and Celebrations