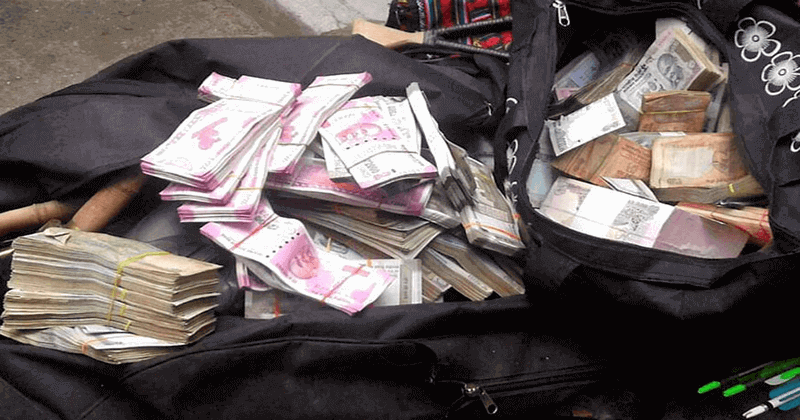 In order to gain more votes, political leaders bribe the people with cash and freebies such as alcohol, household items, laptops among other items.
If you thought demonetization would effectively cut down on cash distribution during elections, then Karnataka has proven that you need to think again.
In the 20 days since the model code of conduct kicked in, Karnataka has seen twice the amount of cash being seized across the state compared to what was seized during the entire period of the model code of conduct in the 2013 Assembly and 2014 Lok Sabha elections.
This at a time when several states, including neighboring Telangana, are reeling under a cash crisis and the RBI and finance ministry are working overtime to fill ATMs.
A look at the data from election officials who have declared the seized cash, liquor, gifts and gold shows that politicians in the state have outdone themselves on all parameters. Sample this, three times the number of cases and non-bailable warrants have been registered as of Thursday than what we saw in 2014.
READ ALSO: Karnataka Elections: Protest breakout over ticket distribution
Election officials say that during the entire 50-day period that the model code of conduct lasted between May 20 and May 8 in 2013, they seized more than 67,000 liters of liquor. During the Lok Sabha election in 2014, when there was a 72-day session of the model code of conduct, only about 44,000 liters of liquor that was supposedly meant for bribery of voters was seized.
2018, however, takes the cake, as well as the bakery. Over 1.92 lakh liters of liquor has already been seized from different parts of the state. There are still 26 days to go before the code of conduct ends, and who knows what record we will surpass by then.
Coming to the currency front, a nationwide cash crunch notwithstanding, a whopping 34 crore rupees has been seized in the last 20 days, as against 14-plus crore rupees seized during the entire poll code season in 2013 and 28 crore rupees in the significantly longer poll-code season in the 2014 general elections.
Other kinds of freebies and gifts like sarees, laptops, household goods like helmets, cookers, and mixer-grinders have also been seized and are estimated to be worth over Rs 19 crore. This was nil in 2013 and Rs 6.7 crore in 2014.
Seized gold, which election officials say has hitherto not been seen in the previous two elections, has been valued at over Rs 3 crore. Around 15 kg gold has been seized from different districts in just the last two days.
Officials say they are yet to understand why there is such a spurt in the free flow of cash and liquor – is it just a case of better enforcement because of more officials on the ground or is it because there is a surge in the freebies that netas are offering.
The number of cases booked and non-bailable warrants issued has also seen a three-fold increase – from 8,871 cases in 2013 to 27,754 this election.
READ ALSO: Karnataka Polls : Narendra Modi set to launch huge campaigns in Karnataka
Again, remember, there are still 26 more days to go before this poll session is done and dusted with.
The Karnataka Assembly election is likely to set the tone for the big 2019 Lok Sabha election as well, and it is crucial for both the Congress and the BJP. The Congress is trying to retain its hold over the only large state it still wields power over, while the BJP trying its best to wrest control to make its presence felt in south India. 
For the regional party Janata Dal Secular too, it has to win a sizeable chunk of seats this time to remain in the reckoning in the political scene at all. No wonder then that desperate times call for desperate measures.