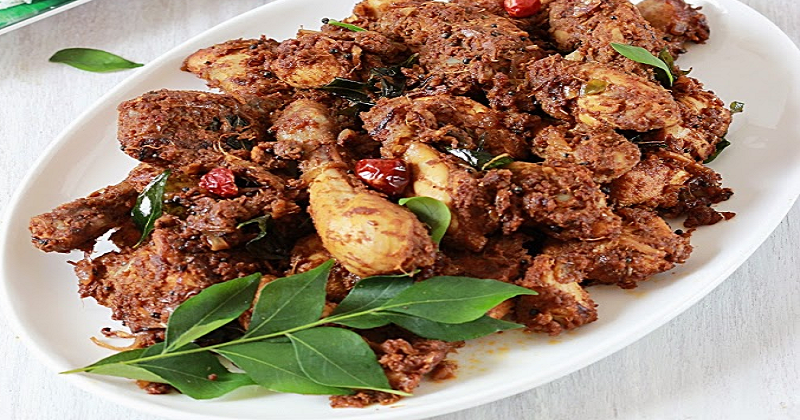 Chicken Perattu or locally known as Kozhi Pirattu is a traditional chicken recipe of Kerala with very limited ingredients and it is very easy to make. It is also called as nadan chicken perattu since it is prepared with nadan (local) flavours.
In Kerala, the taste and flavours change from place to place.
INGREDIENTS:
Chicken- 1.3 kg
Small Onion/ Pearl Onion- 20 nos
Green chillies-3
Ginger-2 inches
Garlic- 8 big
Turmeric powder- 1/4 teaspoon
Chilli powder- 2 tablespoon
Coriander powder- 2 tablespoon
Garam masala powder- 1 teaspoon
Fennel powder- 3/4 teaspoon
Pepper- 1/2 teaspoon
Salt- to taste
Mustard seeds- 1/2 teaspoon
Curry leaves-3 strand
Large onion-1(1 cup)
Refined oil-2 tablespoons (Use coconut oil for more flavour)
Coconut oil- 2 teaspoon(optional to drizzle at final stage)
PROCEDURE:
Remove the skin from the chicken and clean the chicken; cut them into small to medium sized pieces.
Roughly chop a small onion, green chillies, ginger and garlic; grind as a coarse paste in a blender jar or crush them in a pestle and mortar.
Add this to the cleaned chicken then add salt; add the masala powders such as turmeric powder, chilli powder and coriander powder; an add1/2 teaspoon of garam masala and 1/4 teaspoon of fennel powder. Remaining garam masala powder and fennel powder we will add at the final stage to lift the flavours.
Mix well with hand to evenly mix and set aside to marinate for 15-30 minutes.
In a pan directly add the chicken and add 1/4 cup of water and close with a lid and cook till soft.
In another pan heat oil and splutter the mustard seeds and add the curry leaves. Now add one chopped large onion and fry till golden brown in that oil. Add the cooked chicken masala and mix well.
Now increase the flame and allow to dry the chicken masala. Check for salt, sprinkle the remaining garam masala 1/2 teaspoon and fennel powder 1/2 teaspoon and mix well. If you wish drizzle coconut oil on top while the masala gets dried up.
Also Read: Diversity of Biriyanis in India- 7 different Biryanis