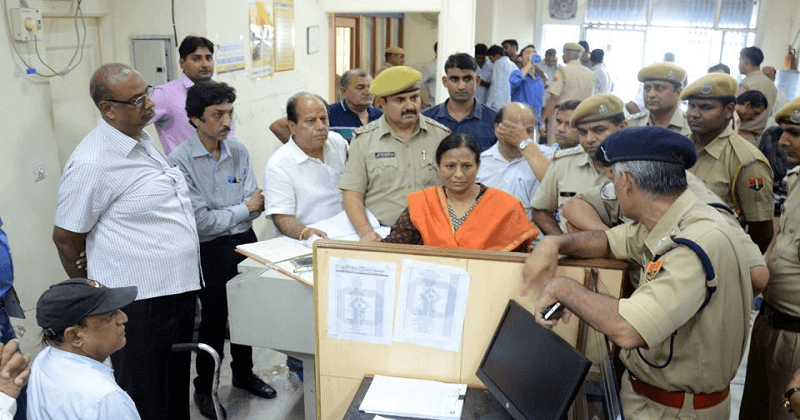 On Monday afternoon, a middle-aged man who stole Rs 6 lakh from Indian Bank at gunpoint, Indira Nagar, Chennai, was arrested by the police.
According to police, around 1 p.m Sunil Kumar Yadav, wearing striped T-shirt entered the bank.
"He was wearing a helmet and went into the manager's room. He took out two guns and threatened few people in the bank. He then took the money and ran out," said Ilayaraja from Tiruvarur who was inside the bank.
In the bank, an employee, Poongavanam, who was there stated that he threatened people not to leave the bank. "He was speaking to someone on Bluetooth device," he claimed.
Read More: Minor raped by powerful businessman; FIR registered
After the theft, the suspect jumped on to his bike parked outside and rushed towards the Water Tank Junction. "He was holding the gun in his hand and it fired when his bike hit against another bike. Hearing the sound of fire, traffic police in the vicinity tried to nab him," people who witnessed the commotion reported.
However, a police officer said Yadav was with a country-made gun in his bag and it accidentally fired when it fell on the ground when his bike hit another bike.
He attempts to flee on his bike but his path was disrupted by a car. Traffic police and public nabbed him, said the officer.
Joint Commissioner of Police, Traffic (South), R. Sudhakar, rewarded Mohanraj and school student Jayant for helping the police nab the culprit.
Mohanraj, who was chasing the culprit since he left the bank with the stolen amount, helped the police identify Yadav. 
Jayant, who recently completed Class XII from Vana Vani School, said he chased the culprit after hearing the gun firing.