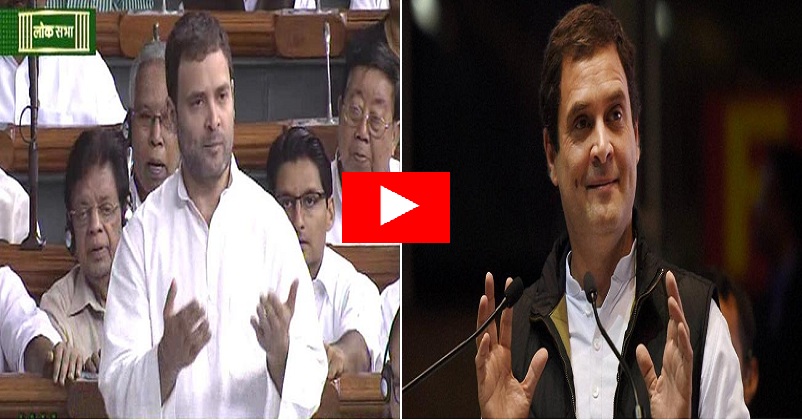 BJP shares Rahul Gandhi's funny Parliament speech on twitter : Watch Video
BJP's latest tweet has gone viral and it has retweeted about 1600 times and been 'liked' about 3200 times, within two hours.
"Rahul ji, we all want you to speak in Parliament… How can we let go off such fun!" read the BJP tweet.
Rahul ji, we all want you to speak in Parliament… How can we let go off such fun! pic.twitter.com/HQyc3IfETX

— BJP (@BJP4India) April 24, 2018
Rahul Gandhi was also trolled by the Karnataka unit of the BJP for his failed attempt at pronouncing the names of some of the icons that Karnataka has produced.
The comic was a reference to a tweet from BJP MP Rajeev Chandrashekar last month, which showed Rahul speaking at what seems to be an election rally in Karnataka, and struggling to pronounce the name of Sir M Visvesvaraya, a Bharat Ratna recipient.
After Rahul Gandhi got the fifteen minutes he asked for! ? pic.twitter.com/pGdHmsxa9w

— BJP Karnataka (@BJP4Karnataka) April 24, 2018
Visvesvaraya was not the only son of Karnataka Rahul mispronounced in that speech. He had also misspoken the name of Krishnaraja Wodeyar, while getting 'Tipu Sultan ji' and 'Kuvempu' correct.
So the leader of the party that aftr 5 years of corrupt govt – is now claiming to build a #NavaKarnataka doesnt know about the great son of #Karnataka n #BharatRatna #SirMVishvesvaraya ! ??@BJP4Karnataka #KarnatakaElection2018 pic.twitter.com/FkS1pNADwD

— Rajeev Chandrasekhar (@rajeev_mp) March 26, 2018
The BJP's tweet was met with the predictable response of a number of videos that showed PM Modi fumbling in his speeches.