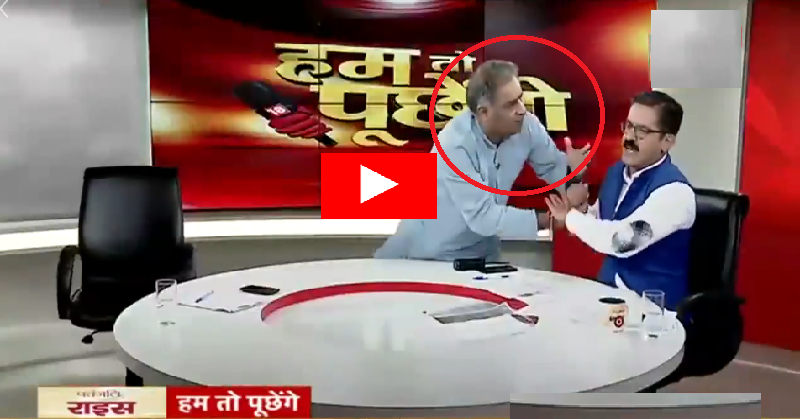 Congress spokesperson hit by News anchor on Live TV show – Watch Video
The alleged incident happened on Monday when the Congress leader Rajeev Tyagi was present in a debate titled 'Rahul ka haath Bimaar Lalu ke saath' by News18 Hindi channel of Network18 group owned by Mukesh Ambani's Reliance Industries. During the debate the Congress leader asked the show's anchor Sumit Awasthi to conduct TV debates on Rafale defence deal, Judge Loya's death and Amit Shah's son too.
Tyagi alleged that Awasthi who lost cool during the debate slapped him on his arm ordering him to return to his chair. The TV anchor also asked his team to remove Tyagi from the TV frame and was seen instructing his team, "Inko screen se hatao (remove him from the screen). Mujhe drama nahi chahiye. Baitho wahan jaa kar. Chup Chap baitho. Baith jao chup chaap.(I don't want this drama. Go and sit there. Sit quietly, sit quietly)."
The news anchor kept asking the leader to sit quietly but Tyagi pleaded to him that he had hit him. "You've hit me. Just because I've held up a mirror to you, you are hitting me Sumit Awasthi."
The debate turned ugly further when the anchor said disparagingly, "Stay within your limits. Rajiv Tyagi, you are an honest person but make arguments."
Also Read : Congress hit back at Narendra Modi,says "Who's credit card was used to pay for this Modi ji?"
Later speaking to media persons, Tyagi asserted that an anchor hitting a leader was unfortunate. "All I was saying that the media must raise the issues that affect people at large. India is a country that has the most number of youth in the world. What about their jobs? What about the promises made in BJP's manifesto in 2014? What about thousands of crores worth taxpayers' money being thrown away to help cronies in the Rafale deal? Should Indian not focus on these shows? Was I being unreasonable on the channel?", he asked.
He further said that he wanted the anchor to debate on these above topics too hence he reached out to him with a handshake.
Shahnawaz Hussain, a BJP representative who was present during the debate, said that the decorum of the debate out to have been maintained. He also defended anchor and said, "Such things happen on Pakistani channels. Indian TV channels don't have such things "
However, the anchor has not replied to Tyagi's allegations.