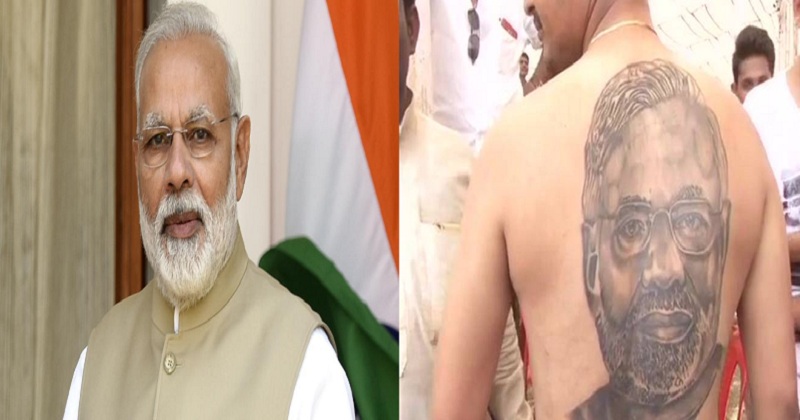 Karnataka Polls : Man gets PM Narendra Modi's face tattooed on his back
Bharatiya Janata Party is carrying out an extensive campaign across the state to boost its chances. Prime Minister Narendra Modi and BJP chief Amit Shah have held a number of rallies in Chitradurga, Raichur, Belagavi, and Jamakhandi, throughout Sunday.
In the Raichur rally, a BJP follower came up with Narendra Modi's face tattooed on his back, which took 15 hours to get etched. Basvaraj, the man who got Modi's face tattooed was quoted as saying by ANI, "The tattoo is for all the good work the Prime Minister has done throughout last four years. He mentioned to me in the rally, and said that I should help BJP win elections in the state." reported ANI.
Also Read : Karnataka Polls : No difference between 'C' of Congress and 'C' of Corruption, says PM Narendra Modi
Earlier in the day, PM Modi addressed a rally in Chitradurga where he mentioned how the farmers there are innovating and yielding crops despite living in a drought-prone area. He said, "This is a land of Bravehearts. It is a land of scientists. Chitradurga is the hub of science and technology." The prime minister also attacked the Congress, saying they are always ready to play with emotions of the people, cannot tolerate independent leaders and fail to respect leaders like Ambedkar, and also Dalits. Amit Shah also addressed a crowd at Belagavi and reflected the BJP leader's tone while promoting Yeddyurappa, the BJP's Chief Ministerial candidate.
Meanwhile, Karnataka CM Siddaramaiah, while addressing the media in Bengaluru, hit out at the BJP by terming Modi's statements as "callous statements". He pointed out that, Karnataka has been at the top of the chart in attracting investments for two years in a row without BJP being there. "BJP's track records are not good, they haven't won a seat in many crucial constituencies. Congress will come back to power in Karnataka with full majority," he added.
PM Modi addressed his third rally of the day in Karnataka's Jamakhandi district. There he targetted the Congress for questioning the Army after successfully conducting Surgical Strikes in Pakistan. In Basaveshwara, Modi targetted Congress on the plight of farmers in the state.