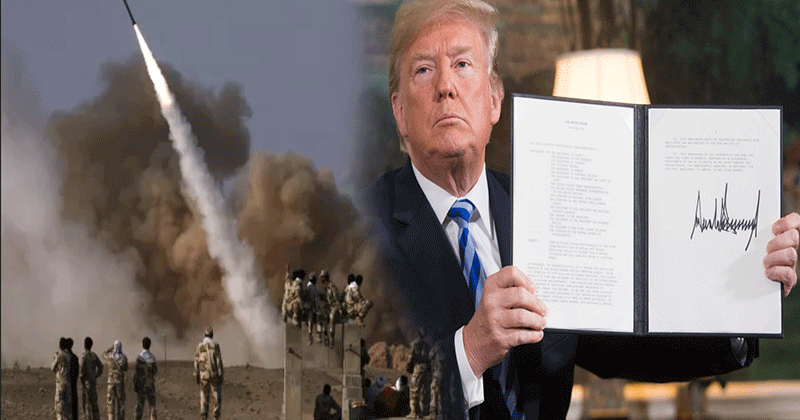 On Monday, Donald Trump had terminated the nuclear deal with Iran that was forged by his predecessor Barack Obama. His act was frowned upon by many leaders, while some congratulated him.
Iranian forces stationed in Syria fired about 20 rocketsat Israeli military positions in the Golan Heights just after midnight on Thursday, Israel's defence forces (IDF) said.
Several but not all rockets were intercepted by Israeli defences, an IDF spokesman, Lt Col Jonathan Conricus, told reporters, adding the army had "responded" without specifying.
"At approximately 12.10, 10 minutes past midnight, forces belonging to the Iranian Quds Force fired approximately 20 projectiles – most of them are probably rockets but that is yet to be determined – towards the forward line of IDF positions in the Golan Heights," he said.
"So far we are not aware of any casualties, any IDF casualties," he said. A preliminary assessment found there was minimal damage, he added.
The attack, if confirmed, would mark the first time Iran has fired rockets in a direct strike on Israeli forces. The occupied Golan Heights has been on high alert since Donald Trump confirmed he was pulling the US out of the Iran nuclear deal.
"The IDF views this Iranian attack very severely," Conricus said. "This event is not over."
READ ALSO: This is what UAE says about Trump's decision to withdraw from Iran's deal
Syria's state news agency said earlier on Thursday that its air defences had intercepted "hostile Israeli missiles" and that artillery suspected to have been fired from Israel hit southern Syria's Quneitra province, adjacent to the Golan Heights. There were no reported casualties.
It was unclear if the reports on Syrian media were related to Israel's response to the alleged Iranian rocket assault. Iran did not immediately comment on events.
Israel has warned it will not permit Tehran to establish a permanent military presence in Syria, accusing Iran of moving drones and missiles into its Arab neighbour. Iranian forces have been sent to aid the Syrian government in a devastating seven-year civil war against insurgents.
The White House move to exit the 2015 nuclear agreement with Iran was welcomed by Israel but has stoked fears of a regional flare-up at a time when Israel and Iran are already on edge.
Just minutes before Trump was due to speak on Tuesday, the IDF said it had identified "irregular activity of Iranian forces in Syria" and had decided to unlock and ready bomb shelters in the Golan, where it shares a frontier with Syria.
"Additionally, defence systems have been deployed and IDF troops are on high alert for an attack," it said. "The IDF is prepared for various scenarios and warns that any aggression against Israel will be met with a severe response."
Hours after Trump's announcement, Syrian state media said that its air defences had brought down two Israeli missiles. The Syrian Observatory monitoring group, which tracks the conflict, said that attack killed 15 people, including eight Iranians. Israel did not comment on the strikes.
READ ALSO:   Donald Trump shocks the world; US –Iran deal withdrawn
In February, Israel said it had downed an armed Iranian drone that penetrated its airspace. Since then Israel's air force is believed to have struck Iranian targets operating in Syria several times, including a 9 April strike on the country's largest airbase, killing seven Iranians. Tehran has vowed revenge.
The Quds Force is an external arm of the Iranian Revolutionary Guards Corps, which Israel's intelligence community said was tasked with a retaliatory attack.
Israel's prime minister, Benjamin Netanyahu, one of the biggest critics of the Iran deal and close Trump ally, told his cabinet on Sunday he was "determined to block Iran's aggression against us even if this means a struggle".
"Better now than later," he said. "We do not want an escalation but we are prepared for any scenario."
Trump's daughter, Ivanka Trump, and her husband, Jared Kushner, are due to arrive in Israel in the next few days for the opening of the US embassy in Jerusalem. The US president's decision in December to recognise the city as Israel's capital has infuriated Palestinians and reverberated across the region.
The occupied Golan Heights is a plateau captured from Syria in 1967 by Israel in a move not recognised by the international community.