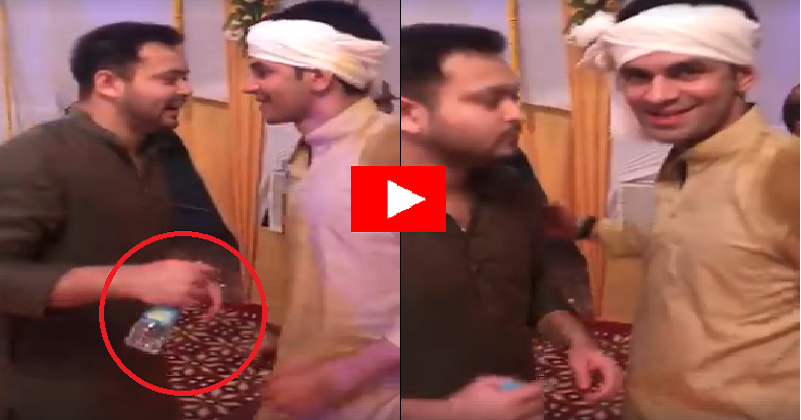 Lalu Yadav's 'Desi Boys' dance at Tej Pratap-Aishwarya Rai wedding : Watch Video
Ahead of his brother Tej Pratap's wedding, leader of opposition in Bihar Tejashwi Yadav took to Twitter on Saturday to offer a glimpse into the celebrations. Calling himself and his brother 'desi boys', Yadav posted a video of him dancing with Pratap. Another video that has been doing the rounds shows Lalu Yadav's wife Rabri Devi dancing with her family, including Tejashwi, to a popular Bihari song. 
A visibly happy Lalu called Tej Pratap's fiancee Aishwarya Rai and congratulated her, saying "you are already proving a lucky charm for us". Lalu was referring to the provisional bail granted to him by the Jharkhand High Court. 
Also Read : More than 100 food stalls, 50 horses: Amazing rich wedding of Tej Pratap's
About 50,000 guests are likely to attend the wedding ceremony of RJD chief Lalu Prasad Yadav's elder son Tej Pratap Yadav with Aishwarya Rai on Saturday in Patna. Going against Bihar CM Nitish Kumar's campaign of keeping wedding parties a low key affair, the wedding is being seen as a major event in the capital city as the guest list includes several high-profile politicians, ministers, industrialists and other celebrities.
The hosts have invited 50,000 guests to the wedding ceremony at the sprawling veterinary college ground in Patna. Congress president Rahul Gandhi and his sister Priyanka Vadra are among the dignitaries likely to attend the wedding. The gala event in Patna will see imported flowers from Thailand being used to decorate the stage while the main entrance to the venue will be decorated with Bihar's Mithila painting. However, a day ahead of the wedding, gates of the 7, Circular Road residence were decorated not only with flowers but also lemon chili to ward off bad omen. The expansive venue would boast of more than 200 food corners to serve the guests while RJD spokesman Shakti Singh Yadav, who is overseeing the preparations, told News18 that the food will be vegetarian. 
"Lalu Ji is a firm believer and worshipper of Lord Shankar. He believes non-vegetarian dishes should be avoided on such pious occasions," said Shakti Singh Yadav. About 100 cooks are expected to cook food for the guests and according to reports, a Bihar based designer has been hired to design Tej Pratap's wedding dress.