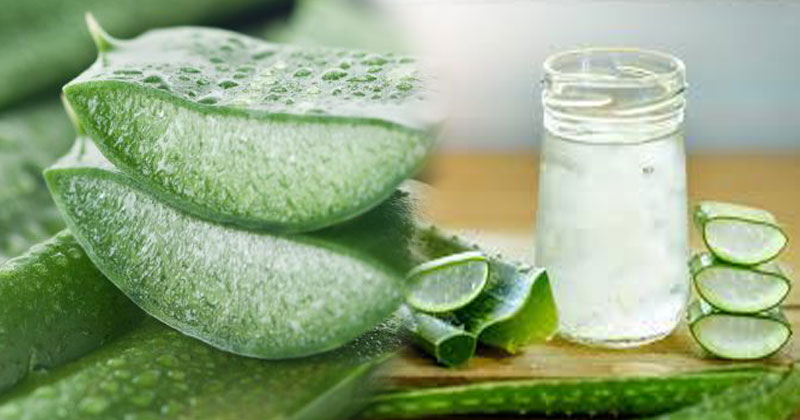 Aloe vera contains something called proteolytic enzymes which repairs dead skin cells on the scalp. It also acts as a great conditioner and leaves your hair all smooth and shiny. It promotes hair growth, prevents itching on the scalp, reduces dandruff and conditions your hair.
Aloe Vera is Great for the Skin. Because of aloe's well-known healing properties for the skin, aloe is one of the primary compounds used in the cosmetic industry. It is a known vulnerary, (meaning it helps heal wounds) and is great for applying topically to burns, abrasions, psoriasis and even to bug bites.
Hydrating aloe vera juice may help reduce the frequency and appearance of acne. It may also help reduce skin conditions like psoriasis and dermatitis. Aloe vera is a rich source of antioxidants and vitamins that may help protect your skin.
Benefits For Skin
Aloe vera soap and gel come loaded with several nutrients like glycerin, sodium palmate, sodium carbonate, sodium palm kemelate, sorbitol, etc. These are good for the skin and nourish your skin from within, giving you the skin that glows with health.
Prevents Premature Signs Of Aging
Wrinkles and fine lines are bound to appear as you age. But, other factors may expedite what is a natural process. Aloe vera helps in preventing these early signs of aging.
How To Use A moisturizing pack made with aloe vera, olive oil, and oatmeal can make your skin smoother and softer.
What You Need
1 teaspoon aloe vera gel ½ teaspoon olive oil 1 teaspoon instant oatmeal
What You Have To Do
Add all the ingredients in a bowl, and mix till they form a paste. Apply the paste on your face and keep it on for 30 minutes. Rinse with cold water.
Moisturizes Skin
Aloe vera gel has been touted by many as their go-to moisturizer. It has shown miraculous effects on oily and acne-prone skin.
How To Use
Aloe vera gel can be directly extracted from the plant and applied to your skin. Alternatively, there are plenty of ready-to-use aloe gels available in the market. But if you are opting for them, make sure that the aloe vera gel in it constitutes 90 to 100 percent of the product.
What You Need
An Aloe vera leaf
What You Have To Do
Peel off the outer layer of the aloe leaf to get to the gel. Scoop out the gel and store it in a container. Gently massage the gel on your face. Store the rest in the refrigerator to prolong its shelf life.
Reduces Acne And Helps Lighten Blemishes
The aloe gel can work wonders on your skin by reducing acne and clearing the blemishes and scars that get left behind.
How To Use
Aloe vera mixed with a few drops of lemon juice can help in the reduction of acne and acne scars. Adding lemon juice is important because lemon possesses skin lightening properties that can help with blemishes.
What You Need
1 tablespoon aloe vera gel 2 to 3 drops lemon juice
What You Have To Do
Add the lemon juice to the aloe vera gel and combine them together. Massage the gel on your face. This is best used as an overnight treatment. Alternative: You can even use a branded aloe vera soap as well.
Also Read: Surprising Beauty Benefits Of Papaya