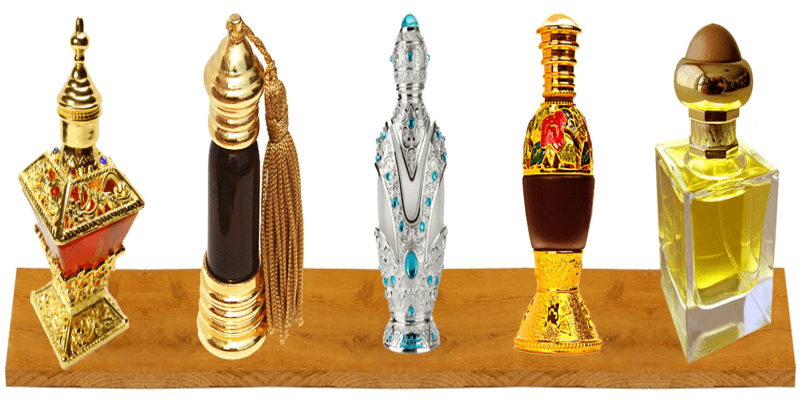 The days of fasting have come, now each and every devotee's mind will be filled with spirituality and the body gets prepared to gain the spiritual mood in its fullness.During this pious month of Ramzan before you go to masjids, just think about the spray that you apply
to yourselves.does it contain alcohol? yes, sure if its deodorant, that means the western deodorant like Axe, Set Wet whatever it contains alcohol. Alcohol is forbidden in Islam. The thing is that with the advent of low-cost deodorants we forgot our eastern perfume, Ittar or Attar. Orginal Ittar is prepared naturally from flowers and plants, using clay jars, through arduous strains. But the fragrant liquid that we get after the process is pure, its zenith of purity can be certified by consuming it internally. That is Ittar. It is non-alcoholic, 100% safe and not forbidden in many cultures across the world. Maybe you've heard many people boasting about the Gulf Ittar or the middle east Ittar. Maybe you have stood to glare at their oratory on the pure form of Ittar in Gulf countries. Just wait a minute, before you arrive at any conclusion. The truth is that the purest form of Ittar is imported from our motherland India to the Gulf countries. Aghast!? No need.It's a truth. Erstwhile kingdom of King Harshavardhana, Kannauj, which is hailed as the Attar Capital of India is a historical exporter of pure Ittar to the middle east. In the Awadh region of Uttar Pradesh
Ittar was a vogue once, but later it fell out of use thanks to the introduction of low-cost western gas cans which we call deodorants.
See also :Purification To Mind and Body Through Fasting | Ramadan 2018
Welcome to Kannauj
The home of GI certified pure Attar, Kannauj is in Uttar Pradesh. Kannauj is a land of the cultural mixture with the traits of Hindu culture, Buddhist culture and Islamic culture. Bada Bazaar in Kannauj is the place where you are welcomed with sellers with the magically smelling potions in their hands. You may be able to get a sample on your wrists. Don't worry, just apply it. It won't make your skin sore or get an itchy feeling. On the contrary, you will follow the trail and reach the dozens of perfume shops in the market. This is that place from where the original, alcohol-free, ethereally fragrant Ittar is exported to the middle east, which the expatriates buy from there and credit the quality to Gulf countries. The people in Kannauj say that from the soil there Attar can be produced! Kannauj is a city 125kms away from Lucknow, the capital of Uttar Pradesh. The word Attar has Persian origin from the word "atr" which means fragrance. To the fragrance add the words natural and purity, you will get Kannauj Attar. Former UP CM Akhilesh Yadav on the fourth anniversary of his government launched four perfumes under the 'Samajwadi Sugandh Brand' which presented aroma of four cities-Varanasi, Lucknow, Agra and Kannauj, which were completely made in kannauj.
Unlike the synthetic perfumes, pure Ittar can be applied directly to the body and some say it won't even harm if taken internally with milk! The history of Attar in Kannauj leads to two views:
1.Mughal Origin
2. Originated from the practice of ascetics who burnt certain roots and plants during bonfires.
Some people give vivid accounts of how Noor Jahan, Mughal Emperor Jahangir's wife used to bathe in water perfumed with rose  petals.T hey say during that time some started extracting scented oils from rose petals and it was later developed into an art. Jahangir patronised this industry and also Noorjahan and her mother used to personally pick new fragrances developed in Kannauj.
There are other accounts of the origin of Ittar in kannauj which deal with the practice of ascetics who burnt certain roots and plants during bonfires. After the fire had died down, a pleasant smell lingered in the air and the enthusiastic residents experimented with the plants till they could replicate the right notes.
The making Process
The Attar manufacturers in Kannauj have been getting their skills passed on from generation to generation. The traditional method involves boiling flowers in an earthen/a copper vessel and later condensing the vapours with cold water. Kannauj's USP Attar menu includes six types of perfumes which are rose, bela, mogra, mehndi, hina shamama and mitti. Perfumes out of this types are also available, but the tag of original Kannauj Attar rests on this 6 types. There are about 150 Attar production units in Kannauj following
this traditional method of Attar production. Kannauj Attar is sold locally and exported internationally to foreign countries like UK, USA, UAE, Saudi Arabia, Iran, Iraq, Singapore, France, Oman, Qatar etc.
Famous Distilleries
1.Pragati Aroma Oil Distillery Private Limited. (Owned by Pushparaj)
2.Meena Perfumery(You can order online)
Website: http://www.meenaperfumery.com/products.html
3.Shubham Natural Fragrance & Exports- Rose water manufacturer, Rose oil, Kewra Water, Rose Absolute Perfume Store
Lala Banwarilal Mehrotra Marg Farsh Street
NO:091984 33084
4.Puja Perfumery
Shankar Road, 209725
Risks to the Attar
(a) When a small bottle of natural perfume costs Rs.100, synthetic perfume costs only    20. People run for low cost forgetting the shelf life, quality and health benefits.
(b)Shrinking land holdings which result in the dwindling of flower cultivation.
Kannauj manufactures about 8000-10,000 barrels of Ittar with each barrel containing 200 litres of Attar. Though kannauj Perfumes are found in nearly all states of the country, trading is done only by a few well off traders in the city. Some big players have opened offices in Mumbai, Maharashtra.Eg: Pragati Distilleries.Former UP CM Akhilesh Yadav had signed a deal with the city of Grasse in France which allows 10-15 practitiones of city's perfume trade to go there for training in the perfume industry. The city of Grasse is the
perfume capital of the world.
On this auspicious occasion of Ramzan, lets help this dwindling industry of Ittar by buying Kannauj Ittars and boycotting the synthetic perfumes filled with alcohol. Spread the original oriental Ittar before you go to Masjid, rather than bathing yourselves
with alcoholic sprays.