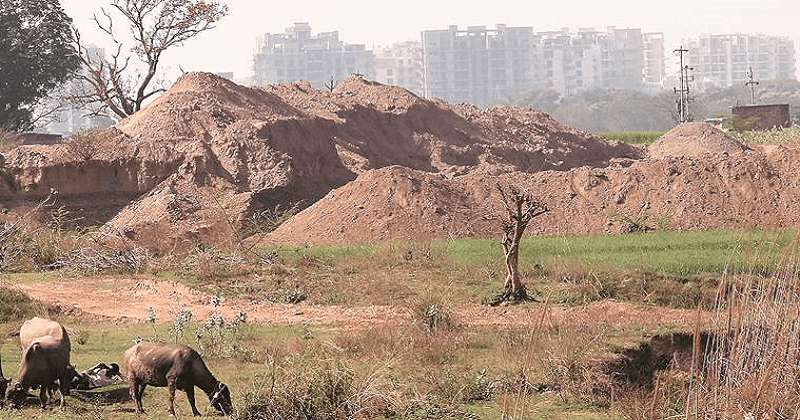 Three mining sites in Bhankharpur, Sarangpur and Bahori villages in Derabassi subdivision were closed by the Mohali district administration followed by the Supreme Court order to shut down the mining sites and submit the report of the quantity of gravel and sand material available at the sites. The sites were closed after a contractor approached the upper court against the hike in prices of the mining sites.
According to the district mining officials, the mining sites in Bhankharpur, Sarangpur and Bahori were given on lease to contractors in 2015 through the reverse bidding method. Under this method, the government holds a draw of lots for approval of the sites. Last year, the state government auctioned the mining sites through the progressive bidding method under which the mining sites are auctioned to the contractor who places the highest bid.
The contractors of the three mining sites opposed the government's decision to charge higher rates from them.
One of the contractors, Baljeet Singh, approached the SC against the Punjab government's decision to hike the rates of mining following which the SC decided in his favour on May 10 and directed the mining department to close these three mining sites and make an assessment of these quarries and pay money to the affected contractors. The mining department was directed to send the report of the assessment of the material till May 18.
A letter was sent by Secretary-cum-Director, Department of Mines and Geology, Kumar Rahul, to Deputy Commissioner Gurpreet Kaur Sapra on May 11 directing her to comply with the SC's orders.
Read More: An attack on paramilitary centre in Quetta, pushed back by Pakistan Army
The letter, the copy of which is with Chandigarh Newsline, read, "It is now stated by the learned counsel appearing for the state of Punjab that within a week from today that is on or before May 18, the necessary calculations and assessment will be made with regard to each petitioner and the quantum that is required to be paid. The petitioners will, of course, be making the calculations."
The letter further stated, "Within a week thereafter, that is on or before May 25, necessary cheques for the payment will be made by the state of Punjab."
According to directions issued in the letter, the district administration has been asked to calculate the quantity of the material that is minor mineral left for extraction for the rest of the tenure of the contract.