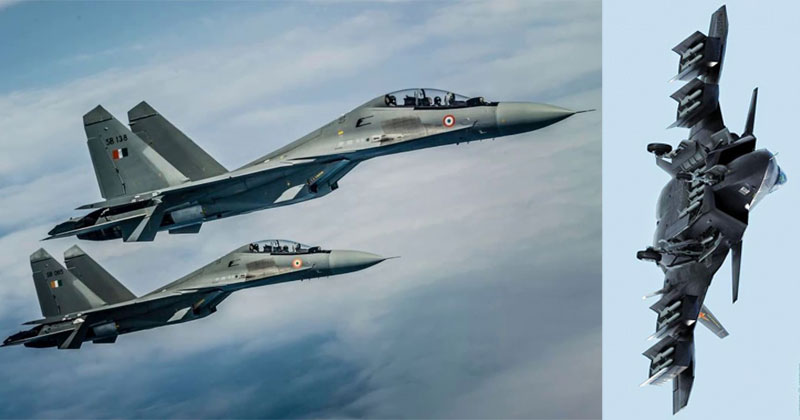 Indian Air Force can track and detect the state-of-art Chinese Chengdu J-20 fighters, which is reported to have stealth capabilities. The Sukhoi Su-30MKI radar can see the Chengdu J-20 hundreds of kilometres away, according to the IAF. India is planning to upgrade the Su-30 MKIs with Russian Phazotron Zhuk-AE Active electronically scanned array (AESA) radars which can track 30 targets and engage six of them simultaneously.
Also Read: Indian Army to buy 25 NAG BMP-2 based anti-tank guided missile systems
According to the Indian Defence Research Wing, the IAF Su-30MKIs on a sortie in the Northeast managed to track Chengdu J-20 fighters being operated by the People's Liberation Army Air Force (PLAAF) over Tibet. IAF chief Air Chief Marshal Birender Singh Dhanoa said the "Su-30 radar is good enough and can pick it (J-20) up from many kilometres away". He made the comment a couple of months back when asked if the J-20 which was "invisible to the radar" could be a threat.
The top IAF commander expressed confidence that the IAF was on a strong wicket and the new assets with the force were more than adequate to take on the Chengdu J-20. He added that his force was more than capable of matching the Chinese Air Force as the former has several limitations because their airstrips are located on a very high altitude.
While Chinese defence experts claim the Chengdu J-20 is China's answer to the American fifth-generation stealth fighters like F-22 Raptor and F-35 Lightning II but western experts claim the former is just a fourth-generation medium and long-range fighter with an inferior engine compared to the US stealth fighters.