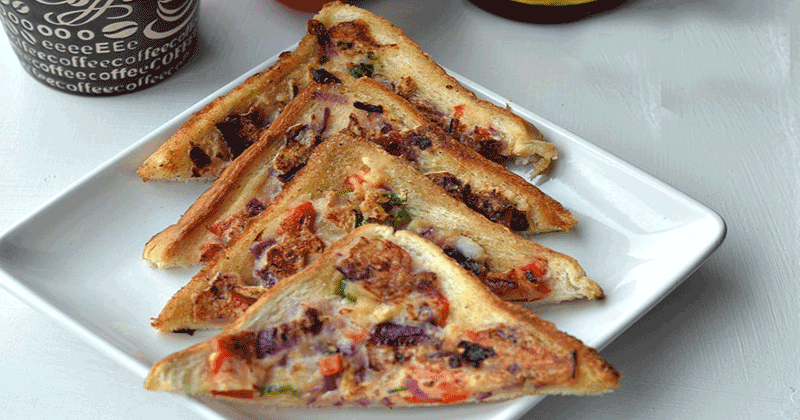 Suji Toast? You might be wondering what this fancy breakfast dish might be. Try it out.
Suji Toast
Suji toast that is light and crisp. It only requires a few simple ingredients you probably have in your kitchen right now. Jump to this scrumptious snack trying to our quick recipe.
Serves: 8
Preparation time: 15-20 minutes
Cooking time: 30 minutes
Ingredients:
Suji                                2 cups
Bread slices                  8
Fresh curd                     1 cup (thick)
Onion                            1 large (finely chopped)
Capsicum                       1 large (finely chopped)
Carrot                            1 medium (grated)
Garlic                             3 flakes (finely chopped)
Green chillies                  2-3 (finely chopped)
Red chilli powder           1 tsp
Salt                                to taste
Oil                                  to fry
READ ALSO: Crispy crunchy Karnataka style rotti
Method:
Mix all ingredients well-keeping bread slices aside. You may add little water if you find the consistency of the mixture too thick to be spread on bread piece (keep remember that the consistency should not be watery or too thin, it should be thick enough to hold the grip on bread piece while frying).
Take a bread slice. Spread this mixture evenly on its top surface.
Cut it into four equal squares.
Heat oil in a deep pan.
Fry the square bread pieces topped with suji mixture one by one flipping on both sides.
Fry till golden brown.
Serve hot with coriander chutney and tomato ketchup.
You can adapt this recipe depending on your mood and creativity. For instance, you could imagine adding oregano, chilli flakes and few more vegetables of your taste in the batter.