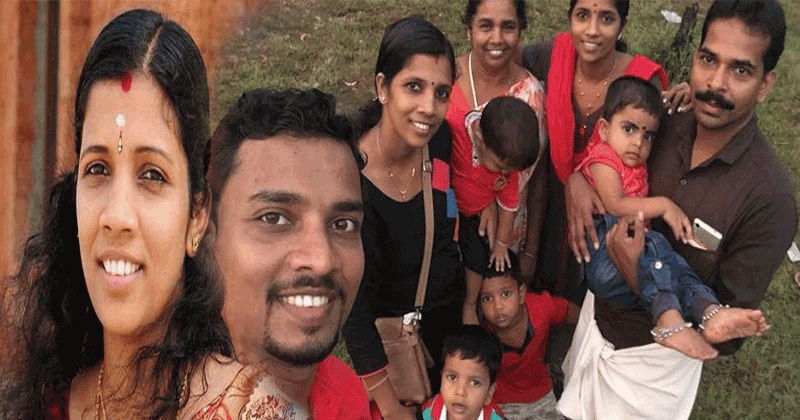 The current epidemic outbreak-Nipah has southern India in panic. The disease has so far claimed 12 people, one one of whom is a nurse.
The nurse, Lini was treating patients when she contracted the disease. She has suffered for 4 days before she passed away on Monday morning, retaining her consciousness the whole time.
Before passing away, the nurse has written a letter to her husband which was later then circulated on social media.
In her letter, the Kozhikkode native had requested her husband, Sajish Puthussery to take care of their 2 sons and to take them to the Gulf with him.
It was Lini's dream to work in the Gulf. Although she had tried for an opening many times she wasn't successful. 
READ ALSO: Nipah Virus: After Kerala, Telangana Health Ministry issued high alert warning
Lini has two sisters – Liji and Libi – and an aged mother, Radha. Her father passed away in 2010, and Lini got married in 2012. The young nurse studied nursing in Mangalore and worked in Bangalore for a short while, before getting a job at MIMS Calicut.
Lini's brother-in-law Jayakumar Velom, married to her sister Liji said: "Everything happened so fast. She got sick Thursday night and died on Monday. I last spoke to her on Friday, a day before she was transferred to Kozhikode Medical College for further treatment."
A long-time Sharjah resident, Velom runs a grocery shop at Al Nahda park. Velom, who was overcome with grief mid-conversation, said: "She was a sweet girl, and I loved her more than my sister. She was the kind of person who worked very hard and gave her entire salary to the family."
Meanwhile, 2 expats have come forward to support Lini's children- Ridhul (7) and Siddharth (2).
Santhi Pramot and Jyothi Pallat, executive directors of Avitis Institute of Medical Sciences based in Palakkad, Kerala, told a Gulf-based daily they have pledged to sponsor the education of Lini's children.
Hailing her dedication, Santhi, who lives with her family in Abu Dhabi, said: "What she did is a heroic sacrifice in the line of duty. We want to take a small step to honour her devotion to the nursing profession and also support the family in their grief. We have contacted the family and informed them that their son's education till they are self-reliant is our responsibility," said Santhi, who lives in Abu Dhabi with her family.
"We are in the healthcare profession and are aware of the sacrifices and hardships of medical nurses. It was indeed a heart-breaking incident that she died while attending to her patients," Santhi added.