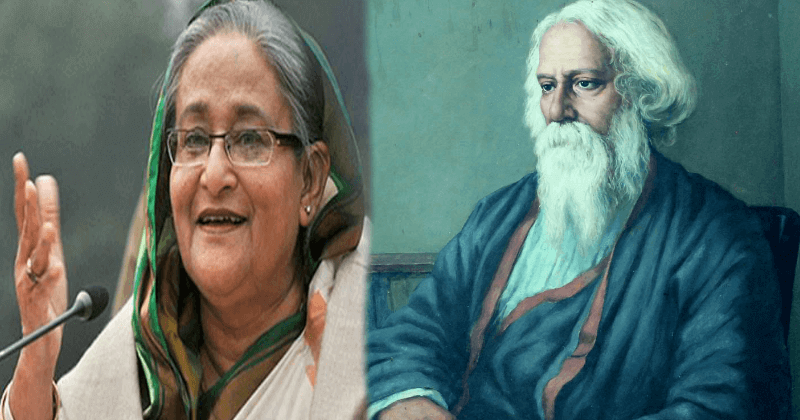 Bangladesh Prime Minister Sheik Hasina on Friday said that Rabindranath Tagore belongs to both countries as he has written national anthem for both countries. She was inaugurating Bangladesh Bhavan after which chose to dive in to some history. "Tagore wrote most of his poems in Bangladesh and that is why we can claim a greater right over him" said the PM. Her words have already split the opinion of public and a Twitter war was soon set off.
see also: Prime Minister Narendra Modi set to visit Indonesia, Singapore
Meanwhile Narendra Modi who is visiting Bangladesh currently along with Sheik Hasina, attended the convocation ceremony of Viswa Bharati University in Birbhum of West Bengal on Friday. . He too was touched by the memory of Tagore on the occasion. "When approaching the dais I was thinking that this is the land of Rabindranath Tagore. Here, somewhere, he had penned his words, composed tunes, held discourses with Mahatma Gandhi or mentored one of his students," Modi added. "Last year, we started an air-conditioned train service between Kolkata and Khulna in Bangladesh which was named 'Bandhan'. India is continuously providing electricity to Bangladesh. Presently it is 600 MW which is expected to be increased to 1100MW. Like we have inaugurated the Bangladesh Bhavan in West Bengal, we have also taken the responsibility to renovate the residence of Ravindra Nath Tagore "Kuthibaari" in Kushtiya district of Bangladesh, "
Modi and Hasina are expected to hold informal talks later. The issue of Rohingya crisis and Teesta Water Dispute is likely to come up in their discussion.