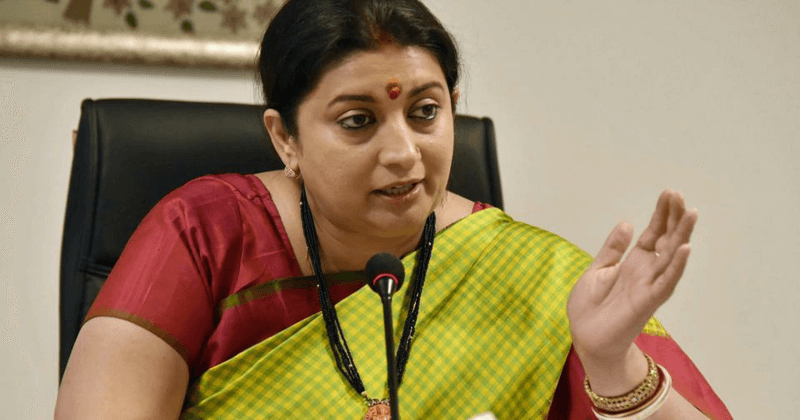 Smriti Irani on the sidelines of a convocation ceremony at National Institute of Fashion Technology(NIFT) in Shillong, said that Rahul Gandhi would not be able to retain his constituency Amethi in 2019 LS elections let alone his party win the election in India.
Addressing the media persons present at the function, the Union Textile Minister said that in Amethi, he(Rahul) had lost every Assembly seat, every local election in the past 4 years and that what could be his chances of coming to power at the centre when he was guaranteed to lose election in his own constituency. She added that the UPA government had left behind a 48-year-old legacy of apathy. Ms Irani claimed,"This is the 48-year-old legacy of apathy of one family versus 48 months of good governance under (Prime Minister) Narendra Modi".She asserted that it was the NDA government which met the social needs of the people under all circumstances.
See also:Nitin Gadkari wants the BJP-Shiv Sena alliance to continue
Smriti Irani said to the media that the reins of India had been passed on to the NDA from the UPA with a heavy burden of scams and the resultant debts to deal with. She reminded all who gathered there that when NDA came to power 'the economic condition of the country was poor'.The newly assigned Government had to address the financial challenges in every sector especially that which pertained to the scams and debts of the UPA rule, she told media.
In an apparent dig at the Gandhi family, she said that that the Congress was just as frustrated as the Gandhi family and that they were at the helm of affairs for past 60 years and had been losing elections for last 4 years. She scoffed at Rahul Gandhi's speeches of development when he had not been able to even open a district collector's office in his constituency.
Smriti Irani skipped the direct questions on fuel price hike and the black money recovery and assured the people that her party colleagues, as well as the BJP Prez Amit Shah, would soon offer a 'time-bound solution'.
The Textile Minister also made allegations on the previous government of its neglect towards the weavers who hailed from the North Eastern region."The government now pays 75 per cent of the education fees for weavers' family. Every state now has textile manufacturing units, which were set up within two years", Smriti Irani said.