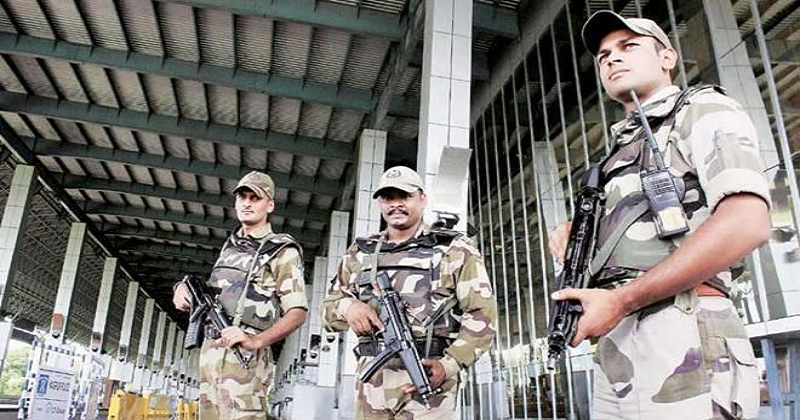 First time in history, the Central Industrial Security Force (CISF) will provide anti-terror security cover to a five-star luxury hotel in Mumbai – Tata Santacruz, which is part of Chhatrapati Shivaji International Airport terminal.
The hotel, located within the domestic terminal of CSIA, gives a sweeping view of the airport runway as several rooms face it.
Officials said that over 60 commandos of CISF have deployed of hotel security on June 2.
The cost of the CISF deployment will be borne by the GVK group that operates the CSIA, he said.
An official said the vehicle-borne commandos, armed with assault weapons, will secure the hotel area against any terror bid that may occur or emanate from the hotel.
The airports' security force of the country, guarding 59 civil facilities at present, will also provide a 24X7 anti-sabotage cover to the hotel with the deployment of bomb disposal and sniffer dogs units.
The official website of the hotel boasts of having "airport runway, city and pool facing rooms."
The hotel is just a two-minute walk from the domestic terminal and a 10-minute walk from the international terminal of the CSIA.
Read More: Cane dues touch Rs.22,000 Crores, Center plans to give Rs.8000 crore to farmers
The luxury address, with 279 rooms and suites, is probably the first airport hotel in the country to give the occupants a clear view of the runway.
The move assumes significance as CISF cover is sparingly granted to the private sector.
There have been only 9 such deployments on the campuses of IT major Infosys, the Reliance Corporate Park in Navi Mumbai and the Patanjali Food and Herbal Park of Baba Ramdev in Uttarakhand's Haridwar.
"It was very essential to secure the hotel against terror or any other such bids as the facility is right inside the CSIA terminal area and oversees the tarmac. "The CISF men will not render control and access of guests at the hotel but will supervise overall security rendered by the private security and the staff of the hotel," the official said.