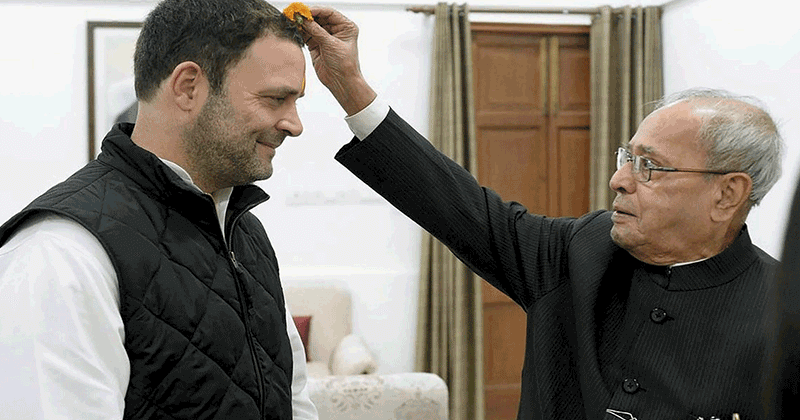 After a two-year gap, the Congress has decided to hold Iftar on June 13 with party President Rahul Gandhi playing host. This will be the first Iftar for Rahul Gandhi after he took over as Congress chief.
Congress party is using the Iftar as an occasion to reach out not just to the Muslim community but also bring together opposition leaders across the political spectrum.
A list of invitees was being drawn up in a meeting of top functionaries which took place on Sunday evening, according to senior party leaders. The list, apart from all Congress lawmakers and public personalities, will also include leaders from all like-minded opposition parties.
But Pranab Mukherjee had not received an invite from the party.
Former president Pranab Mukherjee has not been invited to the Congress's Iftar party. Even former vice-president Hamid Ansari is missing from the list of people called for the Congress event.
Aravind Kejriwal or his Aam Aadmi Party (AAP) too do not figure on the list of the invitees of the Iftar party. The Iftar, which is being organised by the Congress's minority wing, will take place in New Delhi's Taj Palace hotel on June 13.
READ ALSO: Door is open, Seats will be Given, BJP's destruction is the aim:Congress
Even though both Mukherjee and Ansari have not been invited to the Congress's do, the lack of an invite to the former president will certainly raise eyebrows since it comes close on the heels of Mukherjee attending a Rashtriya Swayamsevak Sangh (RSS) event at the organisation's Nagpur headquarters.
The Congress had reacted with worry ahead of the former president's speech at the RSS event but later blew a sigh of relief saying that Mukherjee had shown the right-group the "mirror of truth".
The Iftar party is going to be attended by former Congress president Sonia Gandhi as well as all senior leaders of the party. Significantly, the last Iftar party, which was hosted by Sonia Gandhi in 2015, was attended by representatives from all leading opposition parties, including the Nationalist Congress Party, Trinamool Congress, Dravida Munnetra Kazhagam and Bahujan Samaj Party.
Those invited include all those who were called for Sonia Gandhi's grand dinner from earlier this year; that dinner was seen as an attempt to stitch together a 'grand alliance' to take on the Narendra Modi and Amit Shah-led Bharatiya Janata Party.
READ ALSO: Pranab's daughter says he will not rejoin politics, after Shiv Sena's comment
All the political parties who have been invited have been asked to send in their representatives if they cannot send top leaders considering that the invitations have gone out at the last minute.
 Interestingly, while the Congress had been considering hosting the Iftar party for over two weeks now, according to senior party leaders, the final decision is said to have come soon after President Ram Nath Kovind's office said that there would be no Iftar party at the Rashtrapati Bhawan this year. Since President Kovind took over, there was a decision that no religious celebrations or observances will take place in a public building such as Rashtrapati Bhavan at the expense of taxpayers.
"With the President's office saying that no Iftar would take place officially, there was a thought that as a national party, Congress must come ahead and hold an Iftar party. This time, however, there is a change in strategy and instead of the top leadership it is the minority department of the party which is taking a lead in organizing the event," another senior party leader and former Union minister said requesting anonymity.
It is not yet known who will show up at the Congress Iftar party on June 13.