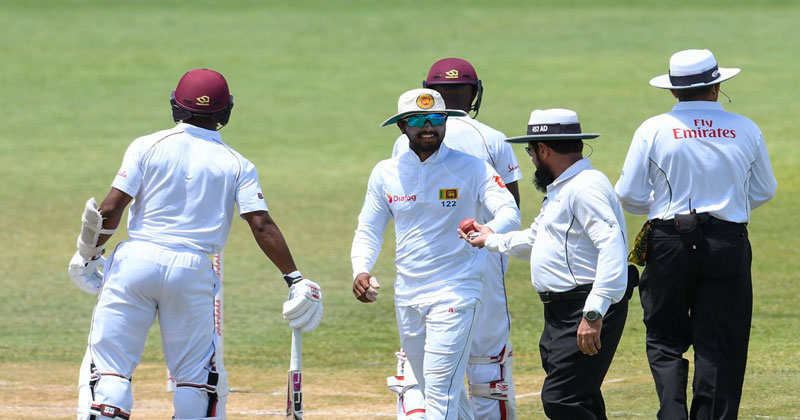 Sri Lanka captain Dinesh Chandimal was charged by the ICC (International Cricket Council) on Sunday over ball-tampering in the second Test against the West Indies in St Lucia.
The ICC announced the decision via Twitter.
See Tweet:
BREAKING: Sri Lanka captain Dinesh Chandimal has been charged for breaching Level 2.2.9 of the ICC Code of Conduct.

More to come… #WIvSL pic.twitter.com/EGU278hZug

— ICC (@ICC) June 17, 2018
Play started two hours late on Saturday after the Sri Lankans, led by Chandimal, refused to take the field following a decision by umpires Aleem Dar and Ian Gould to charge the tourists with altering the state of the ball during the latter stages of Friday's play.
Also Read: David Warner's wife blames herself over the ball tampering issue
The International Cricket Council announced on Twitter that Chandimal had been charged for "breaching Level 2.2.9 of the ICC Code of Conduct". The rule cited deals with altering the state of the ball.
Sri Lanka had already been handed five penalty runs on Saturday, although that relatively minor punishment was inconsequential compared to the Sri Lankans' obvious anger at being accused of what amounts to cheating.
It appeared for some time on Saturday that the day's play at least — and possibly the rest of the match — might be in doubt. However, it was after these deliberations that the Sri Lankans agreed to the change of ball and to continue playing.
In March this year, Australia was caught tampering with the ball in the third Test against South Africa in Cape Town. Steve Smith and David Warner were stripped of the captaincy and vice-captaincy respectively and banned from playing international cricket for 12 months.