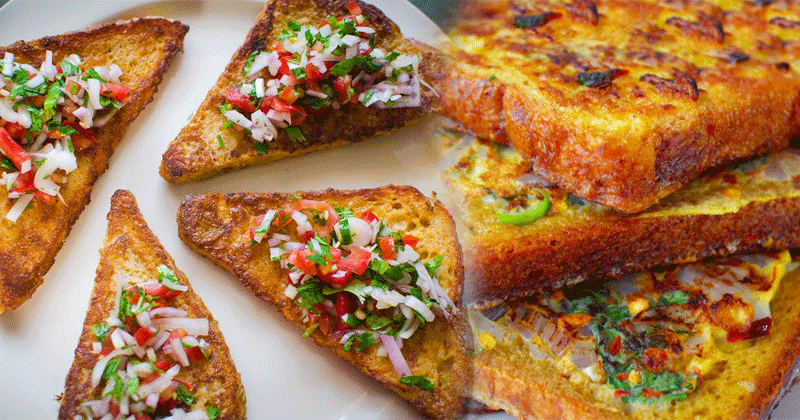 People eat their French Toast in various ways. Personally, I like it crispy, with the right amount of crunchy sound spread with a thick spread of Nutella. Yummm!!!
But have you tried  Masala French Toast?
Masala French Toast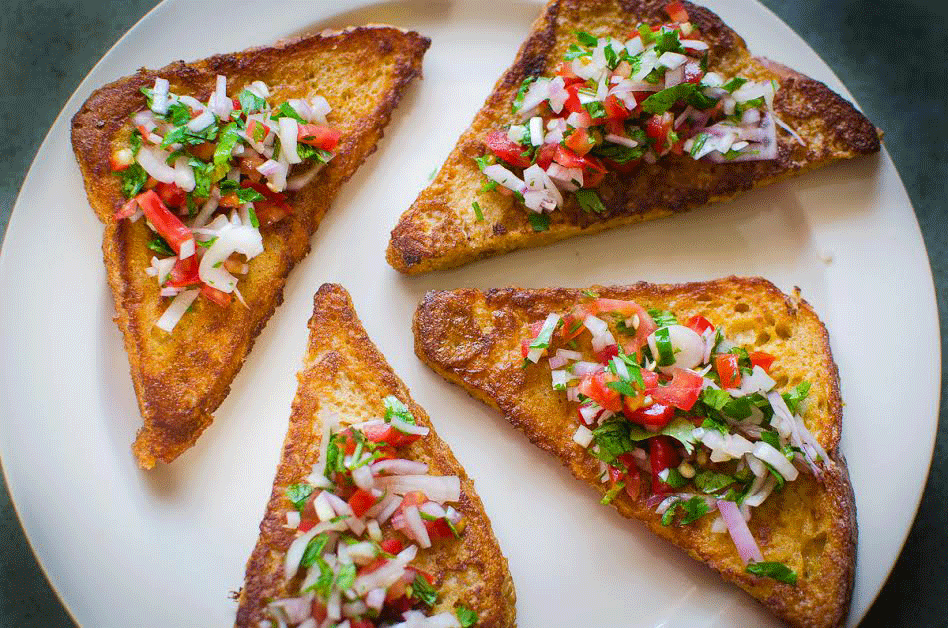 Prep in: 10 minutes
Cooks in: 30 minutes
Total in: 40 minutes
Makes: 4 servings
Ingredients
4 Whole Wheat Bread, slices
2 Whole Eggs
1/4 cup Milk
1/4 teaspoon Red chili powder
4 tablespoons Butter
Salt and Pepper, to taste
Ingredients for the masala topping
1 Tomato, finely chopped
1 Onion, finely chopped
1 Green Chilli, finely chopped
1 teaspoon Chaat Masala Powder
2 sprig Coriander Leaves, finely chopped
READ ALSO: Indian style cheesy omelettes for breakfast- Cheese Masala Omelet
How to make
To prepare the Masala French Toast, first make the topping by chopping the onion, tomato, and green chili. Keep it aside in a bowl.
Next cut each slice of bread diagonally into two triangles and keep aside.
In a deep and wide bowl whisk the eggs along with milk, salt, red chili powder and black pepper for few minutes or till combined well.
Heat butter in a skillet over medium heat. Dip one triangle of bread in the egg mixture until its evenly coated. Using a slotted spoon transfer the egg-coated bread slice to the preheated skillet. Cook until evenly browned on both the sides, by flipping over alternatively.
Once well toasted, transfer the French Toast to a wire rack. Cook the remaining bread slices the similar way.
Once all the toast is cooked, arrange them in a serving platter. Place an equal amount of onion mixture on each french toast.
Garnish with chopped coriander leaves and finally sprinkle chaat masala on the top.
Serve Masala French Toast warm, along with green chutney and a cup of tea/coffee for breakfast or evening snack.