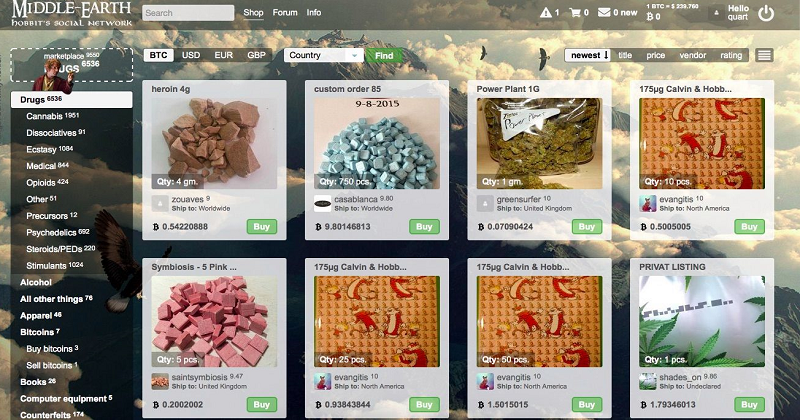 Darknet, a platform to sell drugs for the drug peddlers without much worry of law enforcement authorities, thanks to anonymity provided by the software 'The Onion Router' (TOR), the only browser with which one can access the site.
The arrest of Calvin Mascarenhas from Bowenpally, in one of the biggest drug busts in the city, revealed that he was acquiring his stash from the Darknet, making the police realise how daunting the deep web is. The drug vendors pay through bitcoins and couriers containing LSD blot papers and MDMA crystals are sent directly to Hyderabad, said a senior official of drug enforcement.
While Calvin told detectives that he had been getting drugs by placing orders directly on the Darknet, Waheb, another drug dealer, said his Melbourne-based friend had been placing orders through Darknet and getting the drugs couriered to Hyderabad from Chicago.
"Darknet sites operate through Virtual Private Network and use proxy servers. The encryption is aimed at making transmission of information invisible between the sender and the receiver. This makes it impossible to identify users in real time," cybercrime officials said.
Read More: Gujarat's bullet train like a 'magic train' which may not materialise, says Rahul Gandhi
In December 2015, anti-narcotics cell detectives of central crime station arrested Nagpur-based graphic designers and brothers Mayank Kumar Sahu and Piyush Sahu at King Koti when they were here to deliver 100 LSD blot papers. The accused confessed that they had obtained the blots from 'Nuclear Market Place' on the Darknet. The investigation ended with the arrest of the brothers as there was no way the police could track the sellers, believed to be from China.
Pavan. D, a lawyer from Hyderabad, said that earlier last year, the state government had informed the US government through its consulate here and Interpol via the narcotics control bureau, that Darknet markets, private vendor shops and other referral markets which were identified to be selling drugs in the deep web needs to be shut down. There is no clue on the current status on the issue, he said.
A state cyber crime official said, "Drug peddlers, human traffickers, organ transplant gangs and arms dealers use this. Mostly the hackers or agencies act as prospective buyers."