Roasted Vegetable Burger with Hummus is a quick and healthy sandwich that can be made quick for those busy weeknight dinners, parties or even can be packed for a picnic lunch or kids lunch box.
Roasted Vegetable Burger with Hummus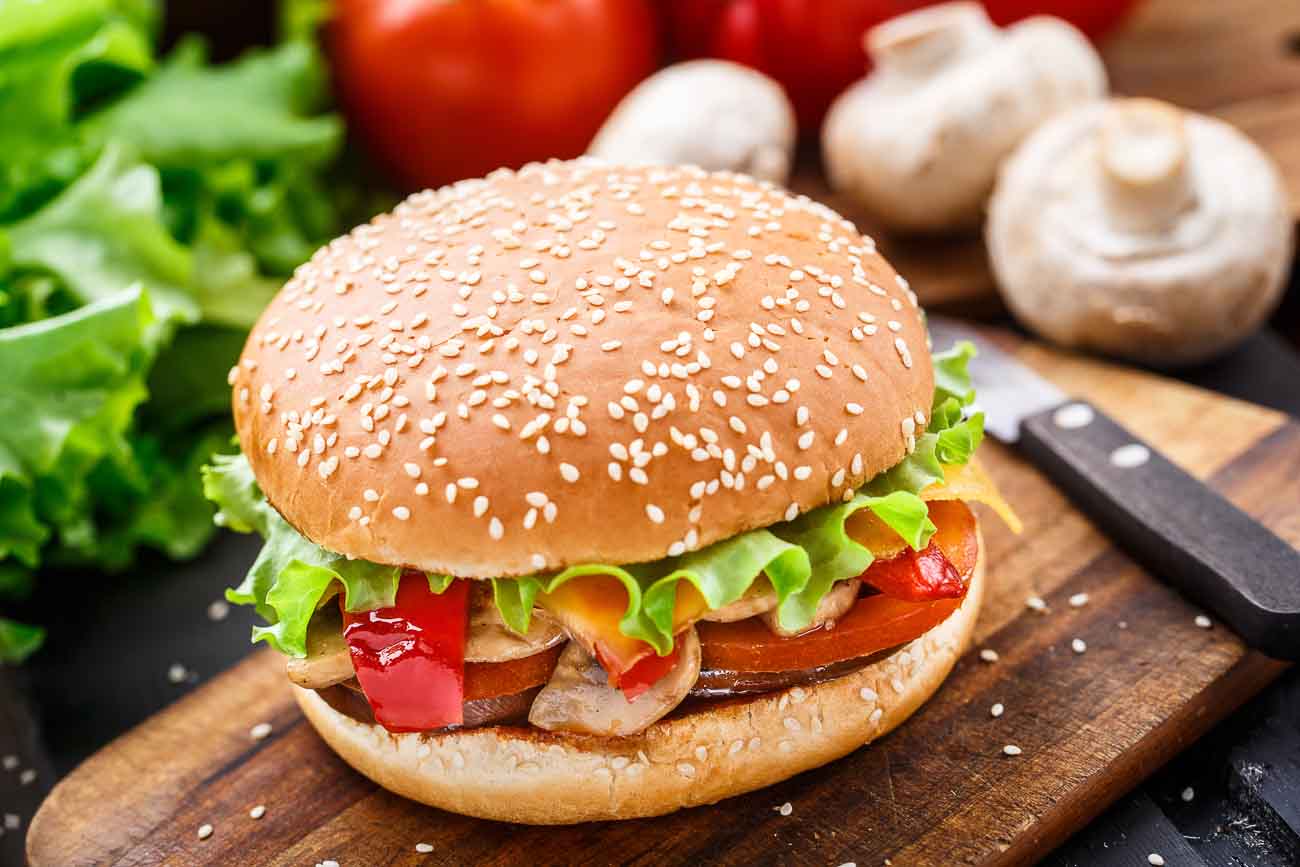 Prep in: 20 minutes
Cooks in: 35 minutes
Total in: 55 minutes
Makes: 2 servings         
Ingredients
200 grams Button mushrooms
1 Red Bell pepper (Capsicum), thinly sliced
1 Green Bell Pepper (Capsicum), thinly sliced
1 Green zucchini, quartered
1 Lettuce leaves, torn to small pieces
Homemade Hummus, as needed
1 teaspoon Tabasco sauce, (optional)
2 Burger buns
1 tablespoon Olive Oil
Salt, to taste
READ ALSO: Kerala style breakfast- Coconut filled Crepes with Berry Sauce
How to make
To begin making Roasted Vegetable Burger Recipe with Hummus roast the vegetables, heat oil in a wok over medium-high heat.
Add the peppers and stir fry them on medium heat until they get roasted and tender. Remove from the wok and keep aside in a bowl.
Heat a little more oil on high heat in the same wok and roast the zucchini and mushrooms until just lightly tender. You want it to be just cooked and not fully soft. Keep aside.
Cut the burger buns into half. Spread the hummus on the lower slice of the bun. Arrange some roasted bell peppers, roasted zucchini, mushrooms and some lettuce over the hummus.
Drizzle some tabasco sauce over the roasted vegetables, place a lettuce leaf and cover with the top slice of the bun. Gently press the burger with your palm.
Serve the Roasted Vegetable Burger with Hummus along with a tall glass of Orange Juice and Potato Fries Recipe for a wholesome meal.