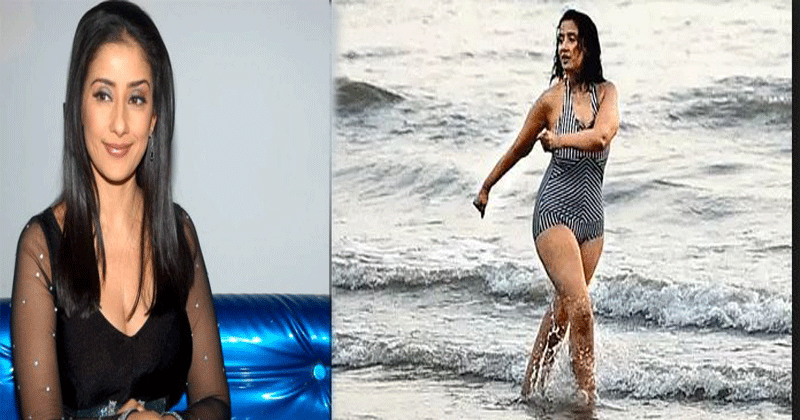 Manisha Koirala, 47, is back and enjoying every bit of her second-innings in Bollywood.
Her 40s have been eventful and enlightening. Actor Manisha Koirala, a cancer survivor, says contrary to common perception that middle-aged female actors get less work in Bollywood, she feels liberated more than ever.
When asked to talk about that, the actress said, "That was the idea of director Dibakar Banejee. He came saying this is how he wants the scene to be, and my first reaction was like, 'Why? I mean in my youth, I never wore a swimsuit in films'."
"But on-screen? Then, Dibakar put his best effort and logic to convince me saying, 'People have not see you in a swimsuit on-screen and that is precisely the reason we should do it.' Well, then I took it up," she told.
She was initially reluctant to play the role but "That is where I had to trust the director," she said.
Her battle with cancer has perhaps made her value her work more. In her late 40s, she feels more liberated than ever. "I think I am more liberated as an artiste in my late 40s. I was having a conversation with Shabana Azmiji where she was saying, 'As an actress and as a woman, we always want to look good. How did you become so carefree?' I think the greedy actor in me takes over at times."
"Being a woman, I want to look pretty in every phase of my life… but I also love acting. If I have to sacrifice my vanity for a character that I am excited to play, I am ready," Manisha said.
If tomorrow she will be offered a role that demands her to look glamorous, she will have no apprehensions about working on her looks. "Basically, my priority is the character first. I have done my share of looking glamorous on-screen in many films," said the actor, who has been a part of films like 'Khamoshi', 'Akele Hum Akele Tum', '1942: A Love Story' and 'Dil Se.'
Manisha feels blessed to have made a comeback in films in this phase. "…I think now cinema is changing and filmmakers, audiences and critics have started appreciating all kinds of cinema. Meaty roles are written for middle-aged women. If I am offered something like that, I will surely do it."
She is also being praised for her performance in Rajkumar Hirani's Sanju, where she essays the role of iconic Nargis Dutt. On Sanju, Manisha said: "I was quite nervous about how people will receive me in the film where I am playing the role of such an icon as Nargis Dutt. I was more worried because I knew how great the rest of the actors were in the film. They were brilliant and the worry was whether people would notice my performance among those great performances.
"I am still one of those actresses who need people's appreciation to know that I have done the right thing. Even after spending a substantial time in the entertainment business, before the release of a film, I am nervous," said the actress breaking into laughter.
Also Read: Alia Bhatt's birthday wishes for beau Ranbir Kapoor's mother is adorable