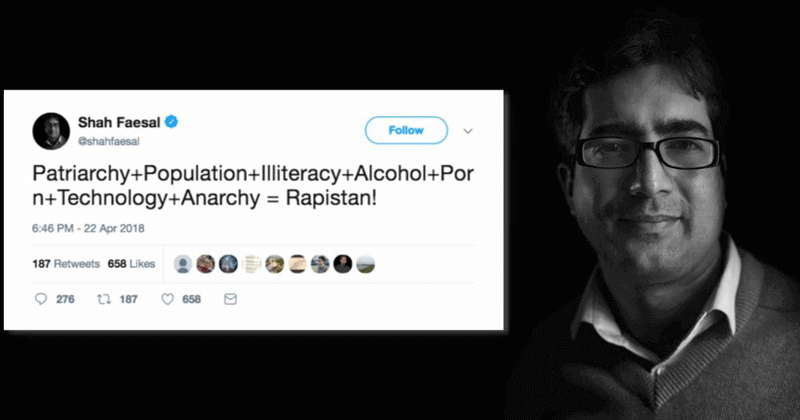 Do you think we have moved on from 'Hindustan' to 'Rapistan'? Well, this IAS topper thinks so.
The Jammu Kashmir government has initiated a departmental inquiry against 2010-batch IAS exam topper Shah Faesal for his "sarcastic" tweet about frequent rapes after receiving a request from the Centre's Department of Personnel and Training (DoPT).
In a notice to Faesal, the General Administration Department (GAD) said, "You have allegedly failed to maintain absolute honesty and integrity in the discharge of official duty and thus acted in a manner unbecoming of a public servant. The Centre's Department of Personnel and Training has requested the state government to initiate an action against you."
On April 23, Faesal had tweeted, "Population + Patriarchy + Illiteracy + Alcohol + Porn + Technology + Anarchy = Rapistan".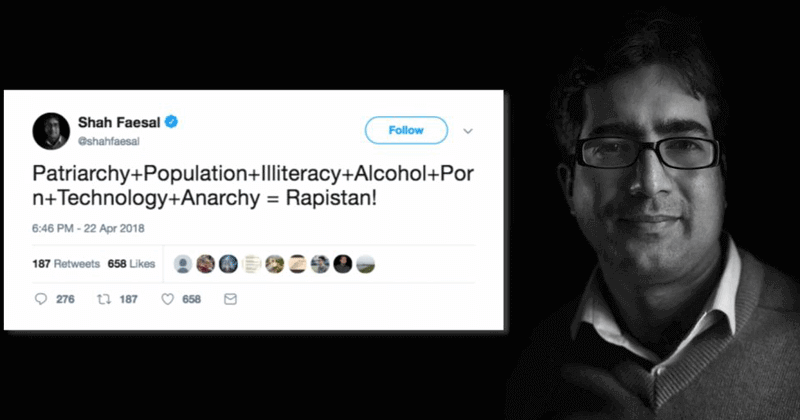 While it is unclear how the tweet violates government guidelines, the notice also contained a screenshot of one of the responses to his post.
Twitter user @p7eiades responded to the officer's tweet with a link to a Wikipedia page highlighting the 'effects of pornography' and sexual violence, to which the IAS officer responded by sharing a news report about a "porn-addict raping his mother" with the caption "Difference between theory and practice".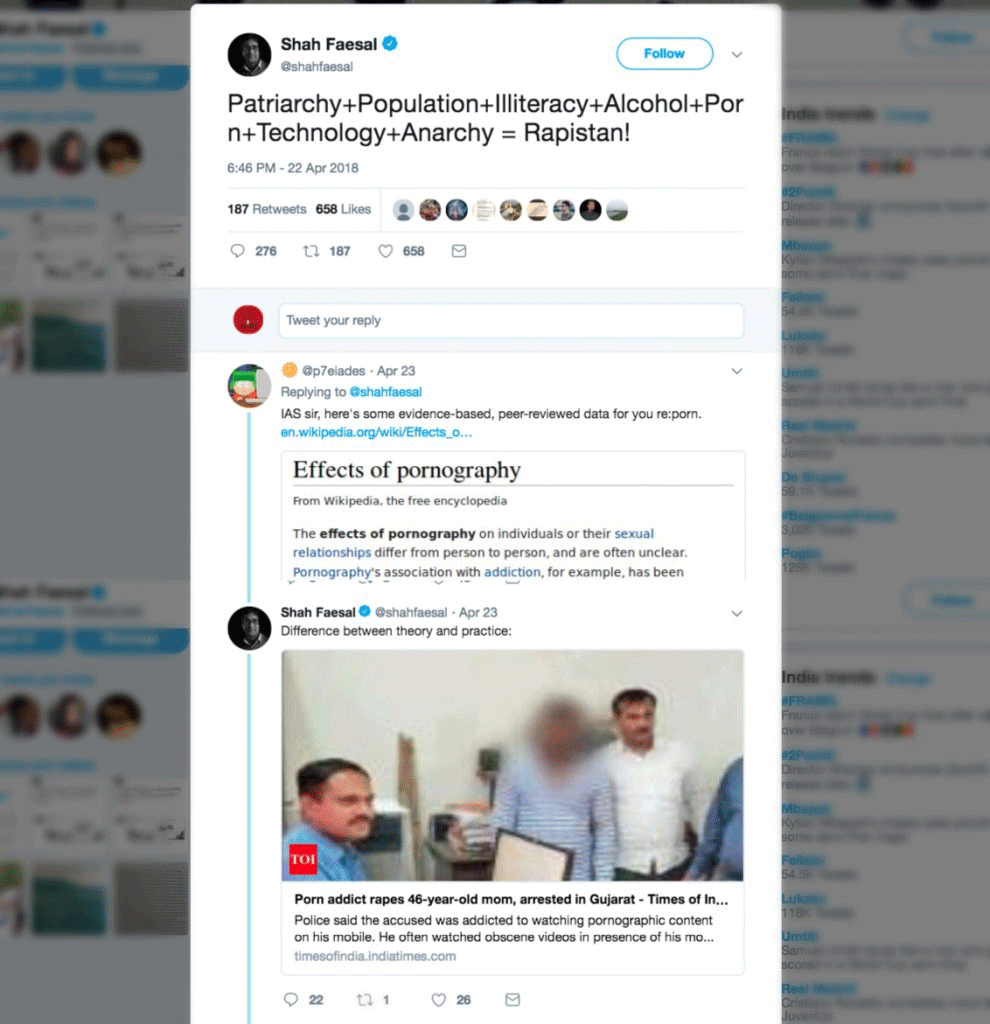 READ ALSO: Jihadis behind Kathua rape and murder", says Defence Lawyer
Reacting to J&K government's move, the IAS officer tweet:
Love letter from my boss for my sarcastic tweet against rape-culture in South Asia.
The Irony here is that service rules with a colonial spirit are invoked in a democratic India to stifle the freedom of conscience.
I'm sharing this to underscore the need for a rule change. pic.twitter.com/ssT8HIKhIK

— Shah Faesal (@shahfaesal) July 10, 2018
"Rape is not part of government policy that criticism of rape would mean criticism of government policy and invite action. If it's so then I plead guilty," Faesal told a leading news agency.
Former J&K CM Omar Abdullah called out the DoPT on Twitter.
Looks like DOPT is determined to chase @shahfaesal out of the civil services. The last line of this page is shocking & unacceptable where they question Faesal's "integrity & honesty". How is a sarcastic tweet dishonest? How does it make him corrupt? https://t.co/6MdUBvC71p

— Omar Abdullah (@OmarAbdullah) July 10, 2018