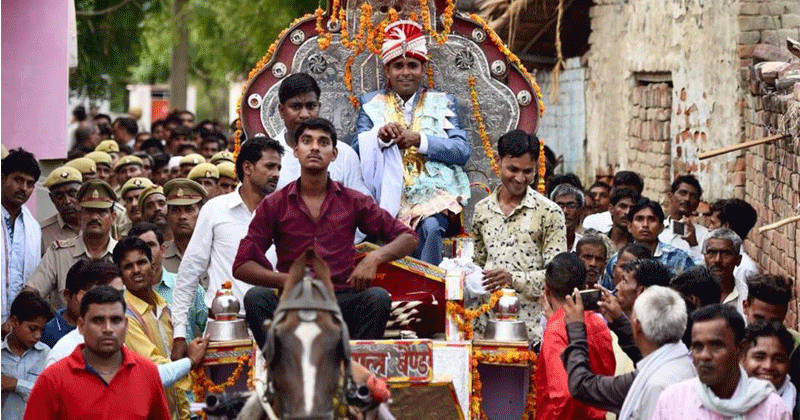 With a convoy 10 police inspectors, 22 sub-inspectors, 35 head constables, 100 constables and a platoon of the state provincial armed constabulary, a Dalit youth had conducted his marriage.
You might mistake him for a VIP, but that is not the case. Sanjay Jatav is just an ordinary Dalit 24-year-old who fought for his rights.
On Sunday evening, western Uttar Pradesh saw the bridegroom arriving in a horse-drawn buggy, a band and some 200-odd relatives.
Never before had any Dalit been "allowed" to sit in a buggy or organize a wedding procession in Rajput-dominated Nizampur in Kasganj district, where Dalit marriages used to take place "silently" on the village's fringes.
But Sanjay Jatav, 24, the groom from neighboring Hathras district, had vowed three months ago that he would "break the rule set by affluent landlords even if I am killed".
The Rajputs had declared they wouldn't allow "any breach of the village tradition". 
The district administration refused permission at first, but Jatav refused to back down, appealing to the district magistrate, the superintendent of police, the Allahabad high court and even the chief minister's office.
The administration fortified the area around his bride's village, deploying 10 police inspectors, 22 sub-inspectors, 35 head constables, 100 constables and a platoon of the state provincial armed constabulary.
"Even if someone wants to create trouble, it wouldn't be possible for them to do that. We have made sure there are more police than guests in this wedding," said RP Singh, Kasganj's district magistrate.
READ ALSO: Gujarat: Upper caste community dragged down dalit groom from the ceremonial horse
Jatav, a local worker with the Bahujan Samaj Party, drove from his village, about 20km away, in a convoy of 30 cars, a police pilot vehicle and an armed security guard. Right outside Nizampur, he was greeted by a phalanx of the press, senior police and administration officers and political leaders cutting across party lines.
Thakur families watched Jatav's grand procession — featuring police escorts, a DJ cart and breathless villagers dancing around the buggy — perched on their rooftops, exchanging details of the wedding arrangement.
"We fought against all odds to just earn respect, dignity, and equality for our community. Neither my community nor I was against local Thakurs, but we were against the indiscrimination on the basis of caste," Sanjay told the media.
Sheetal, the bride, looked resplendent and excited. "I'm happy, that my husband's efforts have finally broken the age-old tradition of Thakur men to suppress the Dalit community. In the past four decades, the Dalit community in Nizampur was attacked thrice by the upper caste men, whenever they tried to take out a wedding procession here. This has changed now," she said.
Despite the successful wedding, the fight for the Dalit families may not have ended as hostilities continue to simmer. "Not one Thakur in the village will attend this wedding," said Rupender Chauhan, a village resident. "Repercussions will follow, if not in two days then in two years."
Dalits form around a fifth of Uttar Pradesh' population and Jatavs are the largest Dalit group, considered a loyal support base of former chief minister Mayawati.
Since independence, Dalits have made great strides in education, employment and social mobility, owing partially to reservations, but the progress has triggered resentment among erstwhile dominant castes in recent years.
This year alone, several incidents of Dalit grooms being beaten up for riding horses and taking out grand processions have been reported from across India, including in Gujarat, Rajasthan, Uttar Pradesh and Madhya Pradesh.