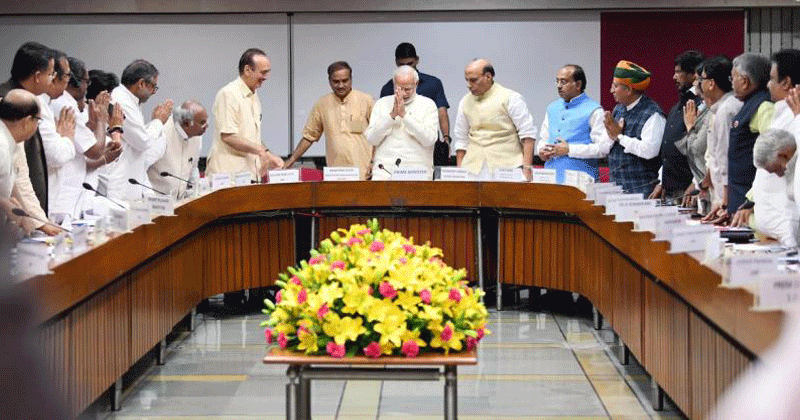 And the political leaders get ready for the Monsoon Session that is to be housed in the Parliament TODAY.
With the Monsoon Session of the Parliament kickstarting today, the Centre and Opposition would be looking forward to debates over a long pending list of bills and a slew of relevant issues.
The monsoon session, which concludes on August 10, will have 18 sittings amid much-expected drama in both the houses – Rajya Sabha and Lok Sabha.
 An all-party meeting chaired by Prime Minister Narendra Modi Tuesday night for smoothing functioning of the Monsoon Session received a "positive" outcome, according to Union Minister Ananth Kumar.
However, the Opposition parties, led by Congress, will hopefully eye to target the in-power BJP over various amendments.
READ ALSO: Monsoon session of Parliament: Opposition may raise heat tomorrow
The government has listed a substantive legislative business for the session. This includes 48 items, including 46 Bills and two financial matters. On priority are The Muslim Women (Protection of Rights on Marriage) Bill or the anti-instant triple talaq bill and The Constitution (123rd Amendment) Bill that gives Constitutional status to the National Commission for Backward Classes.
The National Medical Commission Bill, The Motor Vehicles (Amendment) Bill, The Prevention of Corruption (Amendment) Bill, The Consumer Protection Bill, The Dam Safety Bill and Trafficking of Persons (Prevention, Protection, and Rehabilitation) Bill are also on Centre's agenda.
Besides, there are six bills replacing ordinances promulgated in the inter-session period are also high on government's agenda. These include The Fugitive Economic Offenders Ordinance, The Criminal Law (Amendment) Ordinance, The Commercial Courts, Commercial Division and Commercial Appellate Division of High Courts (Amendment) Ordinance, The Homoeopathy Central Council (Amendment) Ordinance, The National Sports University Ordinance and The Insolvency and Bankruptcy Code (Amendment) Ordinance.
In the meeting on Tuesday night, the opposition brought up issues that it wants to highlight in the session and the government assured that it is willing to discuss all of them.
Prime Minister Modi said the government gives huge importance to the issues raised by all political parties. He also urged the political parties to collectively strive for a constructive atmosphere in the monsoon session for national good.
Meanwhile, Lok Sabha Speaker Sumitra Mahajan and Rajya Sabha Chairman M Venkaiah Naidu also chaired two separate all-party meeting to ensure smooth functioning of both the Houses. BJP Parliamentary Party's executive also met for a strategy meeting in the Library Building of Parliament.