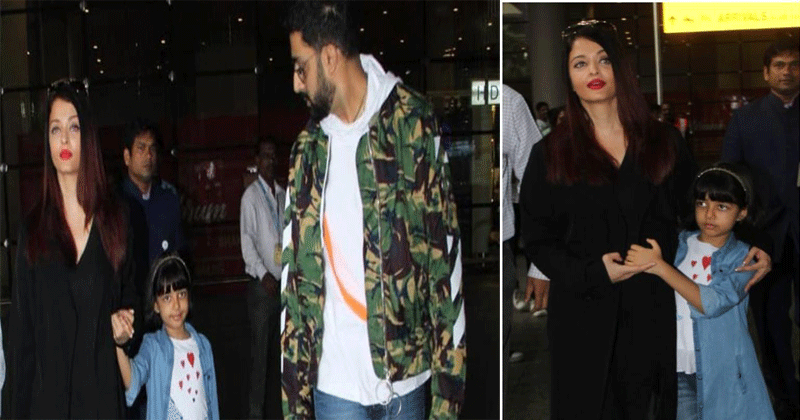 Abhishek Bachchan slammed an online report that suggested that he and wife Aishwarya Rai had a fight. The story has since been deleted.
Abhishek Bachchan on Monday slammed a report that claimed that he and wife Aishwarya Rai Bachchan had a fight as they returned to Mumbai from a vacation. Abhishek tweeted directly to the news portal that had published the story, asking them to 'refrain from making up false stories.'
With due respect. Please refrain from making up false stories. I understand the need to continously post, but would really appreciate it if you could do so responsibly and without mischievous intent. Thank you.

— Abhishek Bachchan (@juniorbachchan) July 23, 2018
The couple's recent arrival at the Mumbai airport was an 'awkward' occurrence for the couple.
So Abhishek and Aishwarya, along with Aaradhya, met in London after the former watched the football world cup in Russia with father Amitabh and the mother-duo attended a brand event and holidayed in Paris.
The trio even posed for a loved-up picture which went viral on social media. All good till then. Cut to their arrival at the airport on Monday morning, where Abhishek a bit 'aggressively' and unsuccessfully tries to hold Aaradhya's hand, after which the couple share a slightly 'heated' stare at each other.
Abhishek is then seen a bit flustered and walks quite ahead of the duo, but then seems to be seeking Aaradhya's attention, who smiles at her dad and then hugs Ash even tighter.
It could be a normal incident in a family and nothing much like a 'fight', but the awkward moment fuelled a news portal report about a 'fight' between the couple.
Abhishek is known to reply to online abuse against him and his family. In May, when a person on Twitter called him 'useless' Abhishek replied, "Walk a mile in my shoes, brother. If you even manage 10 steps I'll be impressed. Judging by your tweets don't think you'll make it too far! Spend time improving yourself, don't worry about others. God knows, we all have our own journeys. Get well soon."
In April, someone made fun of him for living with his parents, to which the actor replied, "Yes! And it's the proudest moment for me to be able to be there for them, as they have for me. Try it sometime, you might feel better about yourself."
When a lady wondered why Aaradhya is always seen in public with her parents and never at school, Abhishek had this to say: "Ma'am, as far as I know… Most schools are shut for the week-end. She goes to school on the weekdays. Maybe you should try it considering you spelling in your tweet."
Abhishek will make a return to the big screen after a two-year absence with Anurag Kashyap's Manmarziyaan, scheduled for release on September 21. Meanwhile, Aishwarya will soon be seen in Fanney Khan.
 Shocking..!! Is Hina doesn't remember anything from 'Bigg Boss 11'?