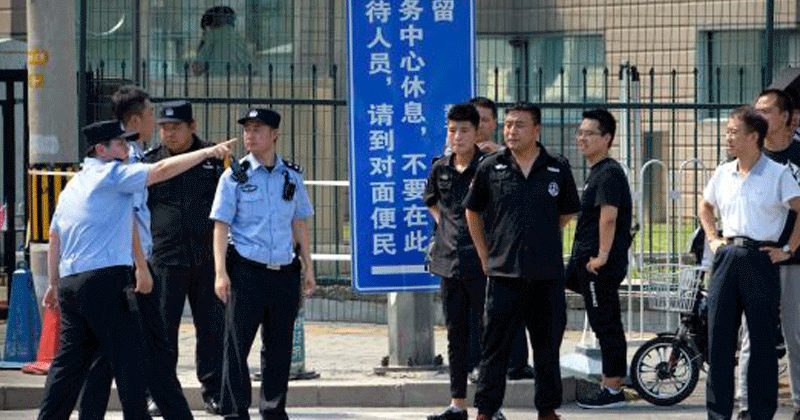 The usually busy street filled with people queueing for visas or other appointments at the embassy was now empty as a bomb was hurled at the US Embassy situated in the capital.
An explosion rocked an area outside the US Embassy in Beijing when a person set off a bomb near a gate, causing panic and confusion.
One report claimed a man tried to hurl a homemade bomb into the compound, but the device exploded beside him in a public area.
An embassy spokesperson confirmed to US media that one person had detonated an explosive device and that person was the lone injury.
The condition of the person who detonated the device was not known.
Gautam Bambawale, India's ambassador to China, told an Indian channel's journalist that he heard a "low-intensity blast" outside the American Embassy, which is next to India's diplomatic mission in the Chinese capital.
READ ALSO:  Dangal Girls had a fangirl moment with Jackie Chan in China
However, there are conflicting reports initially from Chinese state media.
One claimed police had stopped a woman pouring petrol on herself in a suspected self-immolation attempt.
Another said that eyewitnesses heard a blast and felt tremors, but the incident had not yet been verified as an explosion.
Within two hours of the incident, people were queueing again for visas and other appointments as the investigation continued on a pavement nearby.
The incident happened in the Chinese capital's Chaoyang district where there are a number of foreign embassies, including those of the US, India, Israel and South Korea.
The US Embassy has heavy security measures, including a bulletproof glass wall, and is America's third-largest diplomatic mission in the world, behind its embassies in Baghdad and Yerevan.
Measuring 500,000 square feet on 10 acres of land, the Beijing embassy was officially opened by then-President George W Bush in August 2008.