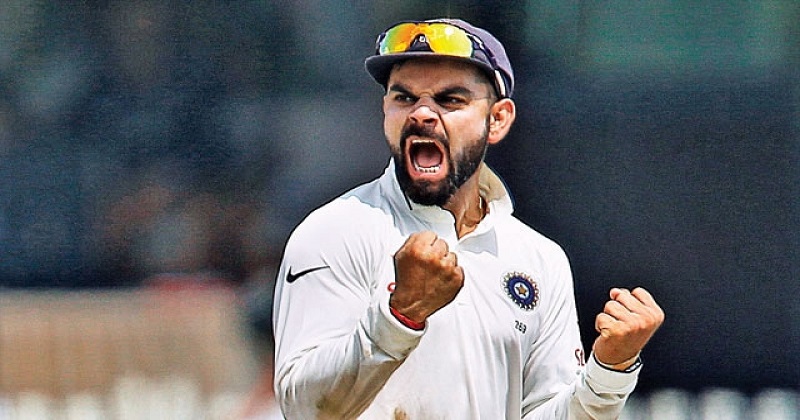 Did India miss a trick by not including the second spinner in Kuldeep Yadav? This is the question that rings in the mind of Indian fans as R. Ashwin emerged as the lone wicket taker for India in the first session of the first test match of the 5 test match series between England and India. India could have had another, had Ajinkya Rahane not dropped an offer from Jennings.
Score: England 83 for 1 in 28 overs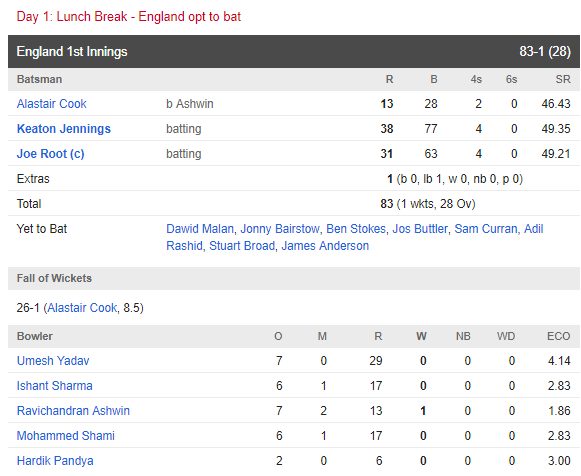 England won the toss and chose to bat and Indian captain seemed happy to bowl first to exploit the overcast conditions. India, already handicapped by the absence of its star strike bowlers Bhuvaneswar Kumar and Jasprit Bumrah had gone in with 4 seamers including Hardik Pandya.
READ ALSO: Watch Video: MS Dhoni Performs a Risky Bicycle Stunt!
Umesh Yadav was a little erratic and not up there in terms of his pace, Ishant posed the odd threat and Shami was probably the better seamer of the three. But the wicket came in the form of Alistair Cook, bowled by a beauty from Ashwin. The ball gripped and turned to take Cook's off stump- a classic off-spinners dismissal.  Jennings and Joe Root held firm from there as Indian bowlers toiled. India had avoided Chetheswar Pujara and included K L Rahul for the match. India will expect it's seamers to bowl tighter lines and put up a spirited show in the next session.