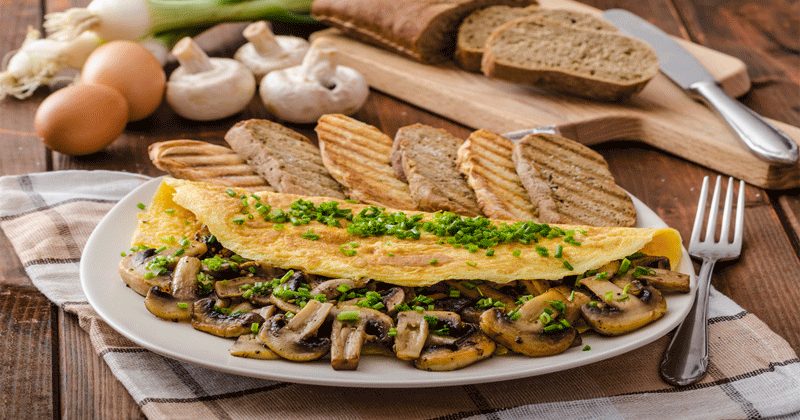 Mushroom Masala Cheese Omelette Recipe is a wholesome and high protein omelet that is packed with the taste from mushrooms, green chilies and coriander. The addition of cheese adds to the creaminess and fluffiness to the Omelette.
Mushroom Masala Cheese Omelette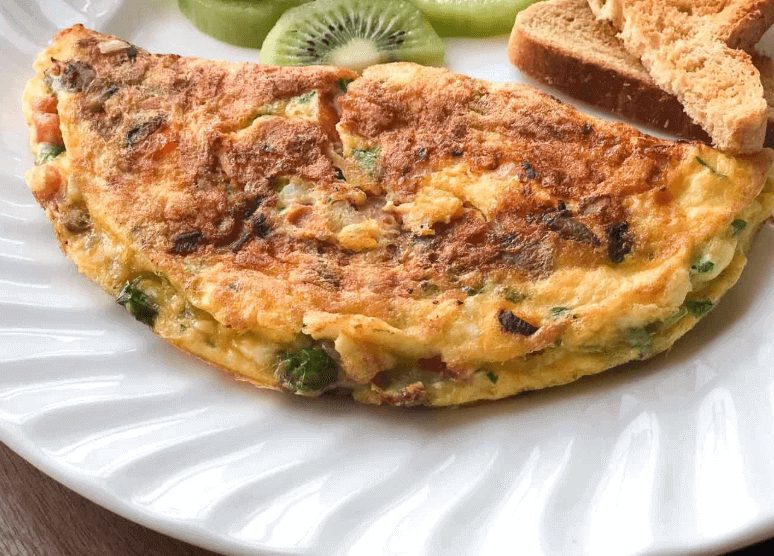 Prep in: 10 minutes
Cooks in: 10 minutes
Total in: 20 minutes
Makes: 1 serving
Ingredients
2 Whole Eggs
10 Button mushrooms, roughly chopped
1/2 Onion, finely chopped
1 Green Chilli, finely chopped
1/2 Tomato, finely chopped
4 Black olives, finely chopped
1 tablespoon Ceese, grated
Coriander (Dhania) Leaves, a small bunch chopped
Salt and Pepper, to taste
1 teaspoon Cooking oil, for cooking
READ ALSO:  Soft and Sweet Karnataka style Idlis- Jackfruit Idlis
How to make
To begin making Mushroom Masala Omelette Recipe, first, prepare all the ingredients and keep them ready.
In a mixing bowl, break the eggs and whisk them up well along with salt, pepper, olives, cheese, and tomatoes. Keep this aside.
Heat oil in an omelet pan over medium heat; add the mushrooms, onions and green chilies and saute until the onions and mushrooms are slightly roasted.
Once roasted, add the egg omelet cheese mixture into the roasted onion and mushrooms.
Swirl the pan to spread the omelet mixture and gently combine the onions and mushrooms and spread it around.
Keep the heat on low and cook the omelet until you notice the top is getting steamed and cooked. You can also optionally cover the pan and cook the omelet faster.
Once the top is cooked, fold the omelet into half and cook for another few minutes is required and turn off the heat. You can also optionally flip the omelet and cook it on both sides.
Serve the Mushroom Masala Omelette along with a Toast, fruits and a cup of your preferred morning beverage.