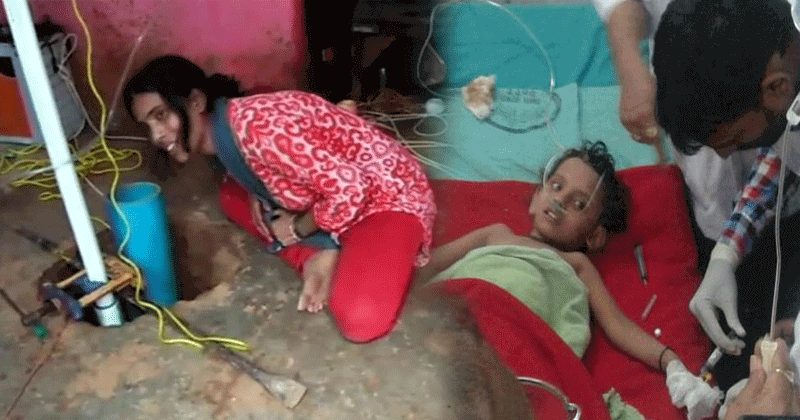 The joint efforts of 2 rescue teams had rescued a minor who was stuck in a nearly 110 feet borewell.
The incident took place in Bihar Munger since Tuesday, 31 July.
The girl, named Sanno, had slipped into a 110-feet-deep under-construction borewell in the Murgiachak area of Munger on Tuesday afternoon.
In a joint operation by National Disaster Response Force (NDRF) and State Disaster Response Fund (SDRF), a three-year-old girl was rescued.
The rescue operation was reportedly completed in over 30 hours.
See VIDEO uploaded by ANI:
#WATCH: A team of National Disaster Response Force (NDRF) rescue the three-year-old girl who was stuck in a 110 feet deep borewell in Munger since yesterday. #Bihar (Source: NDRF) pic.twitter.com/FDm8bZ9SDk

— ANI (@ANI) August 1, 2018
READ ALSO:  Minor Girl Falls into Narrow Deep Borewell: Rescue Ops Underway
The teams made an L-shaped parallel approach by digging adjacent to the borewell in a bid to reach out to the child, read a statement, released by NDRF.
To augment the efforts of SDRF, a small team of NDRF was airlifted on Wednesday from base Bihta in Patna to Murgiachak area under Kotwali police station in Munger.
In addition, one more team was also mobilized from the NDRF Base to Munger by road to assist SDRF in the rescue operation.
Airlifted NDRF team reached on the spot at 3:30 pm (Wednesday) and joined the on-going operation with SDRF. SDRF personnel was operational since Tuesday.
The child responded and followed all the instructions carefully given by the rescuers. All out efforts were made to reach out to the victim.
With due care and diligence, the child was safely rescued at 9:35 pm on Wednesday.
The girl was later taken to Sadar hospital for medication.
Meanwhile, Deputy Chief Minister of Bihar Sushil Kumar Modi has congratulated NDRF and SDRF over the success of the operation.
He ordered the authorities to look after the medication of the child properly and also suggested that she can be brought to Patna for better treatment if required.
Sushil Modi also said that strict actions will be taken against those, who dig borewells and leave the job half way.
In March this year, a four-year-old boy was rescued from a 33-foot borewell after a 35-hour rescue mission.
Last December, a three-year-old girl was rescued in Orissa's Angul district after she fell into an uncovered borewell in the area.