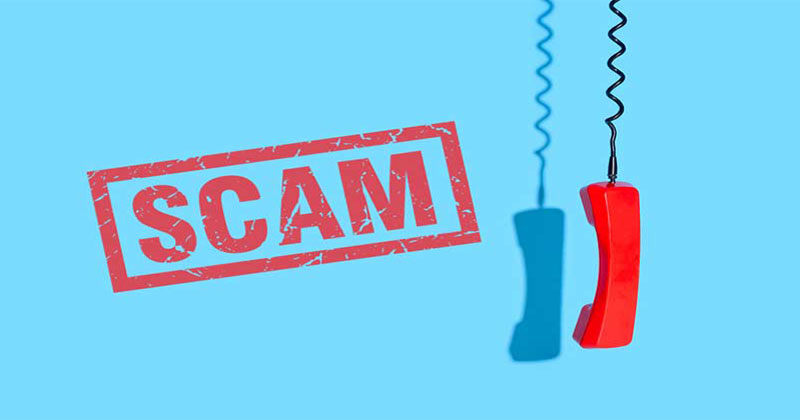 Despite repeated warnings, fraudsters are still on the prowl scamming people with various scams- and this is the latest one.
A new scam doing the rounds is the one supposedly from the Lulu group. Shoppers are receiving messages that they can win shopping vouchers worth Dh500 from Lulu for its 18th anniversary. Many residents have received this message in the past few days.


Warning its customers, Lulu has circulated an advisory asking the public not to fall prey to the fake messages.
The scammers randomly make phone calls or send WhatsApp messages and introduce themselves as representatives of LuLu. They tell unsuspecting customers that they have won a prize or shopping rewards and ask for the supposed winner's credit card or bank account information.
With a constant stream of announcements about UAE expatriates hitting mega jackpots, including millions of dollars at lotteries, it is not a surprise that fraudsters are still out there, trying to con people out of their hard-earned money.
This prompted the supermarket chain operator to roll out ads on major newspapers, warning the public about the ongoing telephone scam.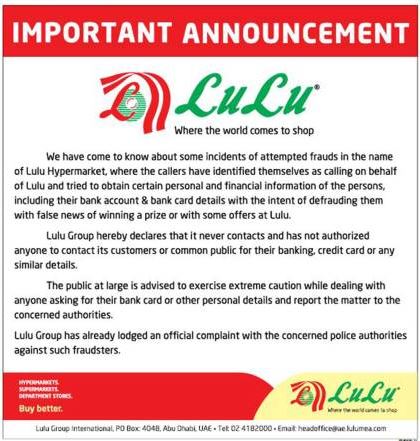 READ ALSO:  New SCAM message has the resident scrambling to the COURT
The notification read:
"We have come to know about some incidents of attempted frauds in the name of Lulu, where the callers have identified themselves as calling on behalf of Lulu and tried to obtain certain personal and financial information of the persons, including their bank account and bank card details with the intent of defrauding them with false news of winning a prize or with some offers at Lulu".
"Lulu Group hereby declares that it never contacts and has not authorized anyone to contact its customers or common public for their banking, credit card or any similar details".
"The public at large is advised to exercise extreme caution while dealing with anyone asking for their bank card or other personal details and report the matter to the concerned authorities. Lulu Group has already lodged an official complaint with the concerned police authorities against such fraudsters."
Dear customers, please be careful with WhatsApp and phone calls from random numbers claiming you have won a big cash prize from LuLu as it is not associated with us. We never ask bank details for our promotions. We also encourage you to report such messages to authorities. pic.twitter.com/GpfKw1ynDt

— LuLu Hypermarket AE (@luluhypr) July 12, 2018