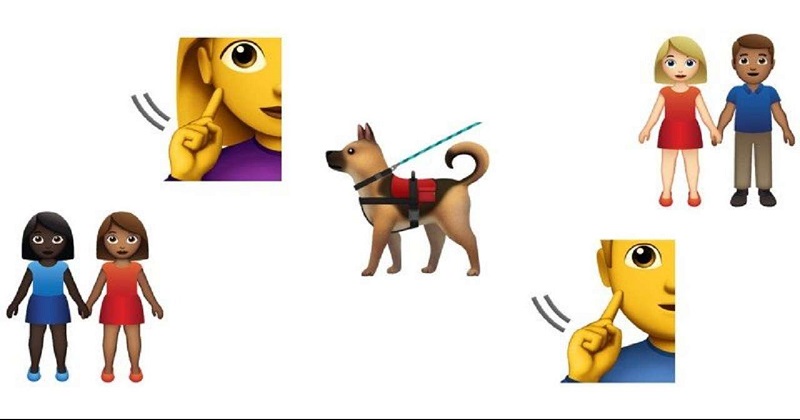 Next year when you update your iOS or Android version, you will be possibly greeted with a new set of emojis which will be more diverse and inclusive. Unicode has proposed 179 new emojis including 61 characters and variants for 2019. These short-listed characters will be available with Emoji 12.0 that will release with Unicode 12.0. Some of the key additions include an emoji for a deaf person, a service dog, a sari, Hindu temple, auto rickshaw, and more.
However, what will possibly gain more cheers is the proposed inclusion of emoji sequences for a couple holding hands with 55 combinations of skin tone as well as gender. This draft of the emojis will be reviewed and finalised in September before being rolled out the coming year.
Apple recently celebrated World Emoji Day on July 17 by revealing almost 70 new emoji characters which will come to the iPhone, iPad, Apple Watch and Mac later this year in a free software update.
Read More: Twitter should change small print after French court orders on the privacy case
The new emoji designs by Apple are created based on approved characters in Unicode 11.0. These include even more hair options to better represent people with red hair, grey hair and curly hair, a new emoji for bald people, and new smiley faces that bring more expression to Messages with a cold face, party face, pleading face and a face with hearts. Other designed characters include kangaroo, peacock, parrot and lobster, along with the addition of new food emoji for mango, lettuce, cupcake, moon cake and other popular items.
Many additional characters across sports, symbols and more will launch later this year, including a new superhero emoji, a softball, Nazar amulet and infinity symbol. During the WWDC this year, Apple also announced that Animoji, which allow users to animate the facial expressions of emojis using facial recognition technology, is getting an update. Apple iPhone X users can now create Memoji – custom, detailed avatars that looks just like you.
Apple's Animoji feature was launched with iPhone X in November. While Animoji allowed users to animate the facial expressions of emojis, Memoji will give you the ability to create a custom emoji that would look just like you.