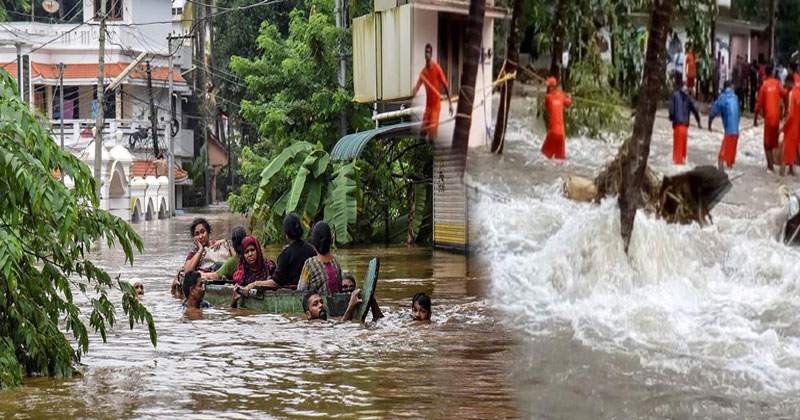 Heavy rain and massive floods are increasing day by day in Kerala. The death toll has been rising with more than 94 people declared dead and thousands have been displaced living in Army shelters. Now, airlift operations have commenced at the Aluva and Trichur districts of the state.
Now it's Bollywood celebrities has come up with their support for those who are affecting with these serious issues.
According to the Indian Meteorological Department, south-western winds are blowing from the Arabian Sea at 35-40 km per hour and water levels are rising. In fact, the authorities at the Kochi airport have reportedly shut down all operations till August 26.
Bollywood celebs like John Abraham, Arjun Kapor, Shraddha Kapoor, Vivek Oberoi, Abhishek Bachchan, Vidya Balan as well as south Indian stars like Rana Daggubati, Tamannaah Bhatia and many others have come in support, urging fans to donate to those affected by the floods.
South stars Suriya and his brother Karthi have donated money to those affected by the floods. The two donated around Rs 10 lakh each.
If the reports are to be believed Mollywood actors Mammootty and his son, Dulquer Salmaan too are said to have given Rs. 25 lakhs.
Tragic to see what's happening in #KeralaFloods please help in whatever way you can. #PrayForKerala pic.twitter.com/oWkqvuhuoH

— Abhishek Bachchan (@juniorbachchan) August 16, 2018
Thoughts and prayers for the families affected by the Kerala floods. Help can be reached on the following numbers. pic.twitter.com/RuYUxWNPjR

— Ajay Devgn (@ajaydevgn) August 16, 2018
Extremely disturbed by what is happening in Kerala. My fondest childhood memories have been there. Please come forward and donate to the chief minister's fund. https://t.co/SzIywiupqA

— John Abraham (@TheJohnAbraham) August 16, 2018
Also, for people who dont have balance in their phones please call on this number to get a free recharge to be able to call the helpline numbers. We are all with you Kerala, stay strong. #KeralaFloods pic.twitter.com/lIK40HM46S

— Vivek Anand Oberoi (@vivekoberoi) August 16, 2018
Praying for everyone affected by the #KeralaFloods.
The state really needs our help and every donation, no matter how big or small, will count.
Here are some details of how to donate to @CMOKerala's distress relief fund and other helpline numbers ? pic.twitter.com/eezFJRE2Dv

— Shraddha (@ShraddhaKapoor) August 16, 2018
Please help the people who have been affected by the floods in Kerala.
Spread the word!#KeralaFloods #StandWithKerala @CMOKerala pic.twitter.com/beLRCe7V07

— Arjun Kapoor (@arjunk26) August 16, 2018
#KeralaFloodRelief #LetshelpKerala pic.twitter.com/6MARy6l5Kg

— vidya balan (@vidya_balan) August 16, 2018
#KeralaFloods Army men at work!! Hope help reaches out in every possible way and in time. pic.twitter.com/gpFYaNmzrx

— Rana Daggubati (@RanaDaggubati) August 16, 2018
Your small donation will create a big difference in someone's life. pic.twitter.com/ssc9gPQsWV

— Tamannaah Bhatia (@tamannaahspeaks) August 16, 2018
Also Read: Kerala Floods : Bollywood celebs urge fans to donate flood relief fund