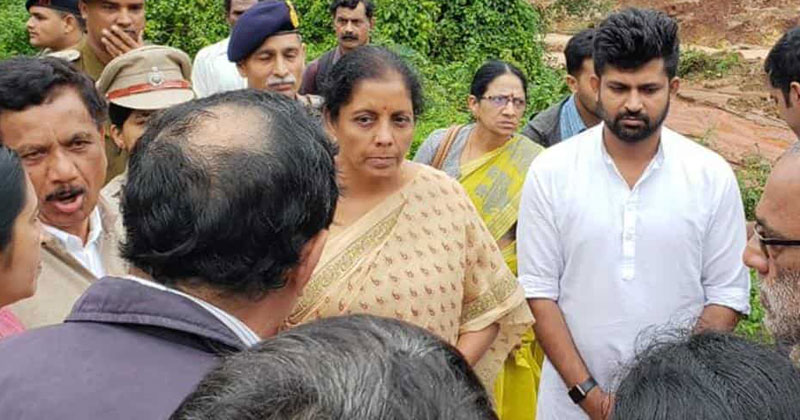 "Unbelievable!" says Defence Minister Nirmala Sitharaman as she loses her cool during a press meet in Karnataka.
The incident took place while Nirmala Sitharaman was visiting flood-hit Kodagu district of Karnataka on Friday. Apparently, she lost her cool over her itinerary and indulged in a war of words with the district in-charge minister Sa Ra Mahesh.
Sitharaman represents Karnataka in the Rajya Sabha and was on an official visit to oversee the army's relief operations in the area, which has been struck by landslides and floods leading to the death of 16 people.
The controversy erupted when Mahesh reportedly asked Sitharaman to wind up the press conference citing the paucity of time. The visibly upset defense minister shot back, saying she was following "minute-by-minute" the itinerary prepared by the district administration and was not at fault for the delay.
Looking at Mahesh, she said, "I am a central minister and I am following your instructions. Unbelievable". Sitharaman asked Kodagu deputy commissioner Sri Vidhya if the itinerary was in order and asked her to resolve the differences with Mahesh over the programme and not embarrass her.
She then looked at those present in the room and asked how many were in the field and taking part in the rehabilitation process, adding that she "did not want one person upsetting the rehabilitation work [to be present] in the room".
READ ALSO:  Defence Minister visited flood-hit areas of Kodagu in Karnataka
When media persons present in the room asked the defense minister to speak loudly before the cameras, she said, "Anyway, the mics are on. Everything can be recorded. You may record it as much as you want".
The minister then addressed the media and promised to help the district after a detailed survey of the areas. She announced an initial help of Rs 7 crore from the defense ministry and Rs 1 crore from her MPLAD fund.
Responding to the incident, Mahesh said the issue was blown out of proportion at a time when the district was struggling to stay afloat. "This is the real nature of people elected to the Upper House. They know nothing about the problems of common people and have no understanding of poverty," he said.
He added that Sitaraman should have maintained decorum in the presence of public and military officers. "There was no need for her to talk like that. After all, she is not an elected MP. She has been nominated to the Rajya Sabha by the Karnataka BJP."
Mahesh also criticised the Centre for not announcing an immediate flood-relief package for Karnataka. "Did the Centre conduct a survey before announcing a package for Kerala? Why is Sitaraman saying the Centre will announce a package only after a detailed study of the flood-affected areas? She is a Tamilian, married to an Andhraite, sent to Parliament from Karnataka. She should be more responsible," he said.