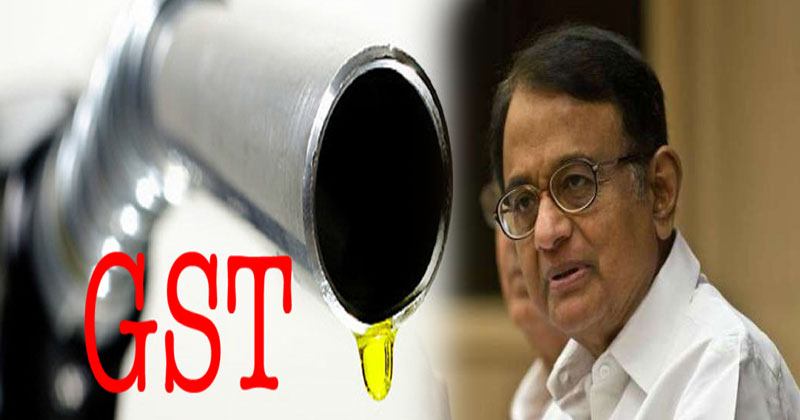 The fuel prices have drastically risen in the past few days as the Rupee continues its downward slump, followed by the trade wars and the price rise of crude oil.
Raising concerns over the high rise of the fuel prices, former Finance Minister & senior Congress leader P. Chidambaram said that the petrol & diesel should be brought under the GST.
READ ALSO:  Rupee Falls & Fuel Prices Reaches New Heights; SEE LIST
In a series of tweets, Chidambaram said:
Relentless rise in prices of petrol and diesel is not inevitable. Because, the price is built up by excessive taxes on petrol and diesel. If taxes are cut, prices will decline significantly.

— P. Chidambaram (@PChidambaram_IN) September 3, 2018
Congress demands that petrol and diesel be brought under GST immediately.

— P. Chidambaram (@PChidambaram_IN) September 3, 2018
READ ALSO:  Rupee Value Slides To A New Low; Reaches Rs. 71.21 Per Dollar
Centre blaming the States is a spurious argument. BJP forgets its boast that BJP is ruling 19 States. Centre and States must act together and bring petrol and diesel under GST.

— P. Chidambaram (@PChidambaram_IN) September 3, 2018
Prices of petrol and diesel, already at unprecedented levels in the country, rose for the ninth consecutive day on Monday, even as analysts said the dual impact of rising oil prices and the depreciating rupee increases regulatory risks for state-run oil and gas firms.
Union Minister for Petroleum and Natural Gas Dharmendra Pradhan had said that the rise in fuel prices in the country was "temporary," adding that a rise in global crude oil prices was responsible for the price surge in India.