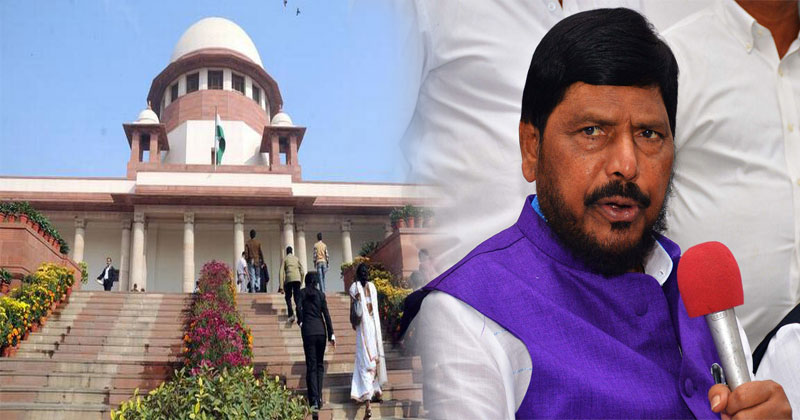 Recently the Bombay High Court had ordered the ban on the use of the word Dalit by the media & the authors. Nd this has been challenged by Ramdas Athawale.
Union Minister & Republican Party of India (RPI) leader Ramdas Athawale has decided to challenge the Bombay High Court's directive of using the term 'Dalit' by the media and asked them to stick to 'Scheduled Caste'.
Athawale told reporters on Wednesday that the word Dalit symbolises the struggle undertaken to give these communities their rights.
"It isn't an insult," he said.
While he was not opposed to switching from 'Dalit' to the legally approved 'Scheduled Castes' for official purposes, he saw no merit in banning its usage in the media or otherwise.
READ ALSO: I&B ministry tells medias to use term SC, not Dalits
"We are going to the Supreme Court; it is not good to ban the usage of the term 'Dalit'. There was opposition to the use of the word 'Harijan', as some people objected to it, but there is no such opposition to the use of Dalit as it is not derogatory," he said.
"I have no objection to the use of 'Scheduled Caste' in government works, but it isn't fair to ban media, authors and other such persons from using the word 'Dalit'. It should be left to them whether they wish to say 'Scheduled Caste' or 'Dalit'," he said.
Incidentally, in March, Athawale's ministry had written to other central ministries and state governments, advising them to avoid using the term 'Dalit' and instead use 'person belonging to Scheduled Castes' in all official communications.
The RPI leader is the second Dalit leader after BJP MP Udit Raj, who has protested against the court order and the I&B Ministry advisory.
"The word Dalit is a symbol of our unity. This word has given us the motivation because of which one day our community will enter into the mainstream of the country. This word should not make anyone feel inferior and not name but their welfare should be important to us," Raj had tweeted.