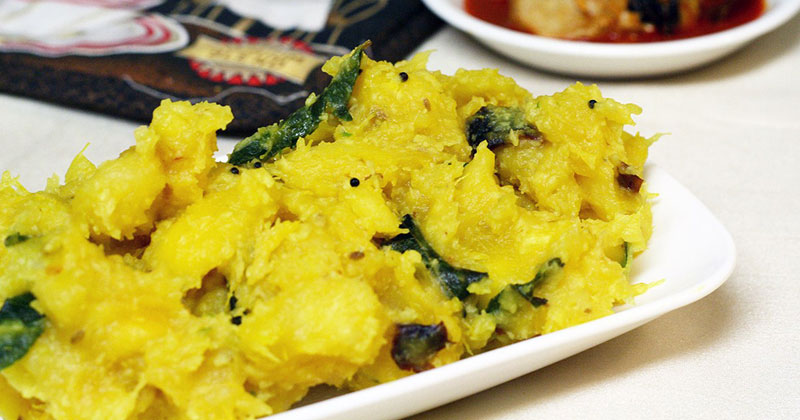 Kottayam Style Kappa Vevichathu is a delicious & fibrous breakfast dish to serve to your family, particularly with Fish Curry.
Kottayam Style Kappa Vevichathu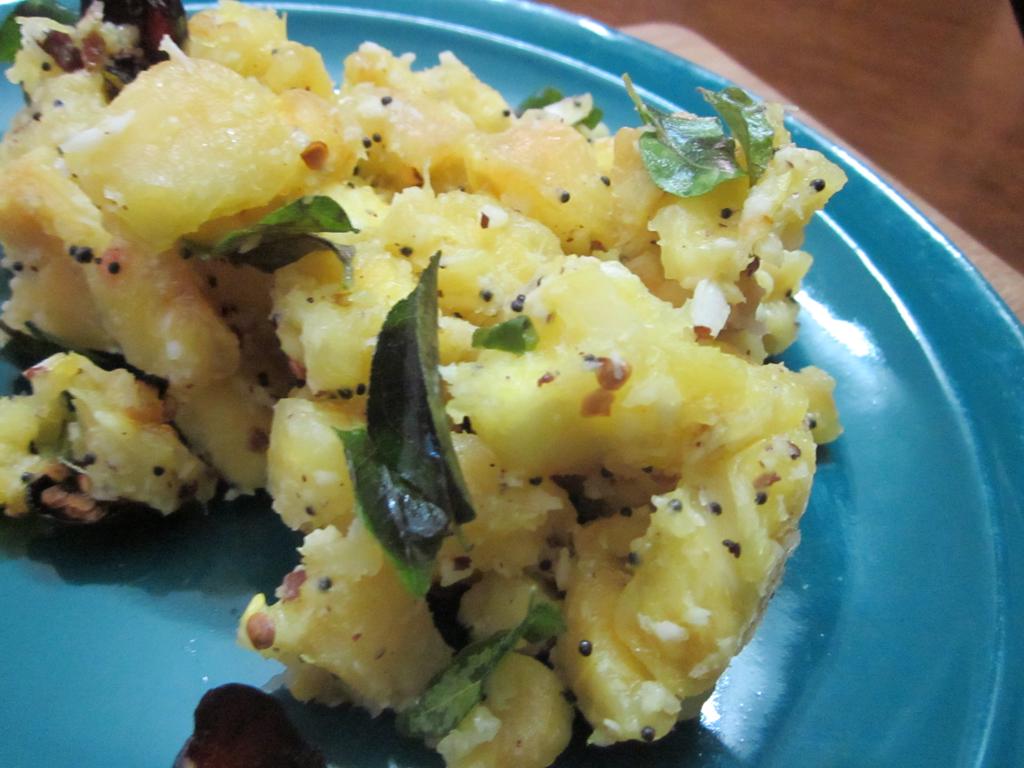 Ingredients
Fresh/Frozen Tapioca/Yuca (Kappa) – 1 kg or 2.2 lbs approx
Grated Coconut – 1 cup
Shallots (Kunjulli) – 2 small
Green Chillies – 2 or 3 (Alter according to your spice tolerance)
Curry Leaves – 1 big spring
Garlic – 4 big cloves
Turmeric Powder – 1/4+ 1/4 tsp
Salt – to taste
Water – as needed
READ ALSO: Delicious Onion Tomato Curry To With Oats Puttu
Method
If using Fresh Tapioca, peel the outer brown skin and inner pink skin. Chop the edges and cut it into medium-sized pieces. Wash it thoroughly a couple of times.
Boil the tapioca pieces in plenty of water along with salt and a 1/4 tsp turmeric until tender. This will take anywhere between 10-20 minutes depending on the type of Yuca used. Be careful not to overcook the tapioca or else it will end up being mushy.
Drain the water thoroughly and keep the tapioca pieces aside. Reserve 1/4 cup of the starchy water.
Grind coconut, shallots, green chillies, garlic, a few of the curry leaves and 1/2 tsp turmeric powder to form a very coarse paste.
To the same pan used for boiling the Tapioca, add the cooked tapioca pieces, coconut mixture, remaining curry leaves.
Cover and cook for 3-4 minutes on low heat. If it appears dry, add a few tablespoons of the reserved water. Remove lid and mix everything thoroughly. Add more salt if needed. Mash the pieces thoroughly using the back of a wooden spatula but I prefer leaving a few chunks to bite.
Remove from heat and serve with Fish Curry or Chilly Chutney.
Notes
Sometimes a little Cumin (Jeerakam) is added while grinding Coconut but it is not used traditionally. The same applies to garlic.
If you don't have green chillies, you can instead use red chilly powder.
You don't have to grind curry leaves but grinding it along with the coconut will give it a delicious taste.