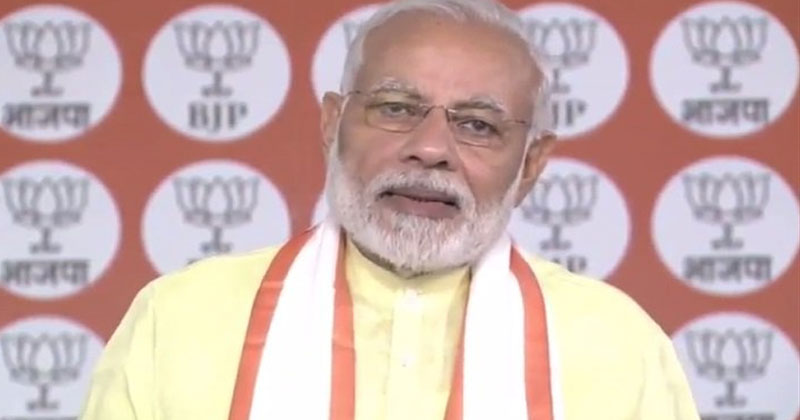 For the upcoming 2019 elections, Narendra Modi has a new mantra to defeat the opposition's Grand Alliance- 'Mera Booth Sabse Mazboot' (My polling booth strongest).
Via NiMo App, Prime Minister Narendra Modi had addressed the party workers in 5 Lok Sabha constituencies-Jaipur (Rural), Nawada, Ghaziabad, Hazaribagh, Arunachal West. The party workers' hard work resulted in the success of the party's progress in the last four years, he said.
In the video interaction, he stated that the workers' hardwork & their grip on their respective poll booths led to the party's success. "Mera Booth Sabse Mazboot (my polling booth, strongest)…this is the only mantra and this is our strength," he said.
PM Modi said that the BJP will in the 2019 elections and that the oppostion's Grand Alliance was weak against the party.
READ ALSO:  Rahul Gandhi met Nirav Modi in 2013,says Shehzad Poonawalla
"The wind is blowing in favour of the BJP, even stronger than what it was in 2014. That's why opposition parties are holding on to each other's hands to save themselves from being blown away."
He asked the party workers to continue their hard work and to ensure that at least 20 families and youth are working with the party in every polling booth.
Prime Minister Narendra Modi said that only in BJP can an ordinary man become a leader, and assured that anyone can take his place tomorrow.
Calling the Congress a family party, Modi said that he felt pity for the party workers. "Many capable and committed workers of the Congress were sacrificed for interests of one family," he said.
The opposition is resorting to lies in its campaign but today people in the country are awake while the opposition is not ready to come out of its slumber, the prime minister said.