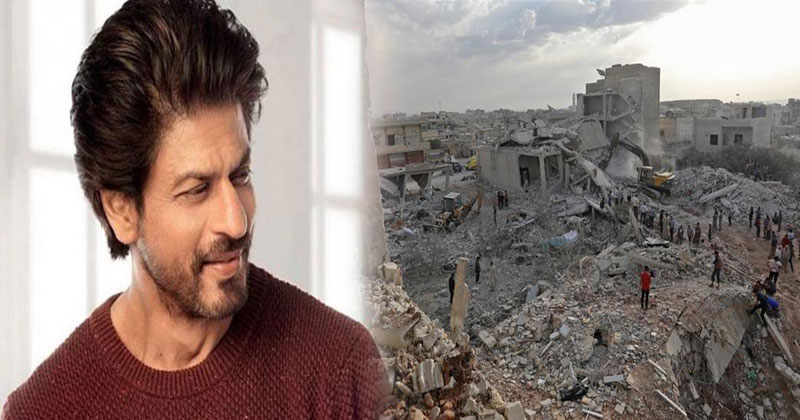 Syria has been in the news because of the war and its victims, affecting the normal life of the common man.
While political power has been a part of the war in Syria, a different kind of power can save in times of need-Bollywood power.
A journalist gives his first-hand experience of how Bollywood, mainly Shah Rukh Khan, and till an extent Amitabh Bachchan and his family, helped him out of trouble. Here is his experience:
Despite good roads, it can take hours to reach your destination in Syria. The newly liberated areas are intensely monitored and all vehicular movement is accounted for. Whether I went to Palmyra or any other area in Syria, if you are in trouble Bollywood is the best bet for you. All your local contacts can fail you. Even permission given by the Syrian government may not impress the Army on the road. He might not like your face and you may end up sitting or standing depending on the situation.
What saves you is Bollywood. Syrians are pretty much aware of Bollywood. Bollywood has done much good for Indians abroad. Being Indian in Syria is not a bad thing. Provided you are moving in areas dominated or recaptured by the Syrian army.
READ ALSO: Shah Rukh Khan turns a protective father for Suhana Khan at the Mumbai airport- see pics
My car was stopped at every post and was asked to identify my self again and again. When I would say that I'm an Indian, the reply would be, "Oh you come from Hind." That would not end the conversation. Out of 100 times, I was stopped, 90% of the soldiers said, "Give my regards to Shahrukh Khan or we love Shah Rukh Khan." Even Katrina Kaif, Karishma Kapoor and Amitabh BachhanBachchanp during the conversation.
Some asked to give there regards to Karishma Kapoor or Shahrukh Khan to which a number of times I would say, "Of course." Many asked me about Amitabh Bachchan's son. His name. His equation with Aishwarya Rai. I used my encyclopedic knowledge of Stardust, Gladrags and Filmfare to the best effect. For those moments I felt that I owed Bollywood.
These names helped break the ice between us and the Army personnel. There were times when I sat in the front making my government escort sit behind with his papers. Whenever the Army personnel came to inquire at the checkpoint, I would say Shah Rukh Khan and they would smile and ask me to go ahead. It is a classic case of soft power doing better than hard power. India's soft power remains Bollywood. It makes life easier and often helps to break the ice in unusual and hostile circumstances. Syria is a case in example.
Post Script: Do visit Palmyra. It is beautiful but what ISIS did is unforgivable. They broke two beautiful portions of this heritage. The town is burnt to ashes. There are no tourists. The site is desolate. You can find cartridges on all through the site. Though it is not possible to visit the site without requisite permission.
KINDLY NOTE THAT THIS WAS TAKEN FROM ANOTHER SOURCE AND THIS CONTENT DOES NOT BELONG TO EASTCOAST DAILY.